Whether your company is B2C or B2B, your best customers are the ones who trust you. Once they determine you are trustworthy enough for a first-time purchase, it's on you to keep that trust. If you retain their trust, and consequently, their loyalty, the payoff is substantial. In fact, research has shown that an increase of just 5% customer loyalty results in anywhere from a 25% to a 95% increase in revenue.
So how do you earn customer trust? As it turns out, the number one factor in earning a customer's trust is through great customer service (Zendesk).
Let's look at some ways you can earn & retain your customer's trust through great customer service.
---
Emphasize Honesty and Transparency
Transparency is a word that often crops up in company settings and in the political sphere. When your policies and dealings are transparent, you are deemed trustworthy; when your customers feel that you aren't open in your communication and policies, they resent you.
When you train customer service representatives, make sure they understand that honest answers are key, even when the truth is, "I don't know." Your team members should be willing to find the right answer rather than BS their way through a call or sales meeting.
Honesty covers everything from describing what your service can and can't do to owning up for a mistake. When your team assumes responsibility for the things that go wrong and do what needs to be done to fix it, they can restore wavering trust in your service.
For example, here's a Zendesk macro we use at our agency Pronto Marketing to instruct reps to use the following formula when corresponding with customers who reported a mistake: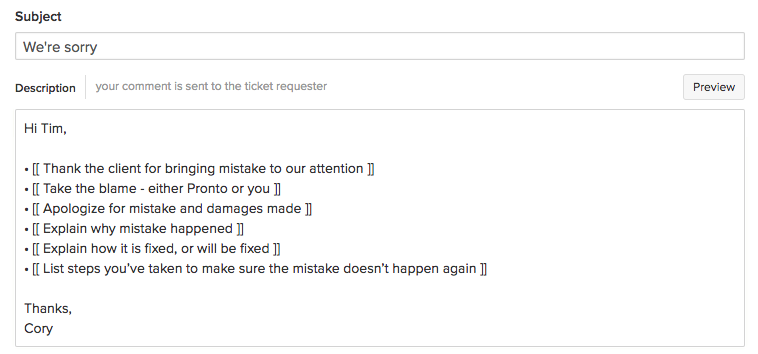 By taking the time to write transparent, thorough responses to customers, your team members can cultivate trust in your company. Some customers will even trust your company more than they did previously because of how well errors are handled.
---
Leverage Company Credentials & Branding
Robert Cialdini, widely known as the godfather of modern persuasion science, wrote extensively on the subject of authority. His books demonstrate how people automatically trust someone with authority. By establishing authority and authenticity in your market, you inspire trust in your customers.
One of the easiest ways to do that is to appeal to another company with existing authority, like the Better Business Bureau for example. Similarly, if there's a third party organization in your industry that offers membership or accreditation, gaining that credential and displaying it on your website will add to your trustworthiness in the eyes of your customers.
In addition, if you've been featured in high-profile publications such as Forbes or TIME magazine (or even a trusted local publication), you can link to those articles and place their logos on your site.
When customers see that you've earned a mention from well-respected media outlets, they perceive you as being the real deal.
If you service high-profile companies, all the better; ask if they are willing to have their logos featured on your site, too.
You can also use branding to present a professional, authoritative picture of your business. Having a logo and a unified set of graphics for your website and communications certainly helps. But, even small touches – such as modifying your email signature – can make a real difference.
For example, let's say you contact an agency regarding an ad campaign and receive a response from Tim at Pronto, ending with either of these signatures:

If you make it easy for your customers to see that you are knowledgeable and authoritative in your industry, they will trust you more.
---
Curate Persuasive Case Studies and Testimonials
Speaking of authority, another way to build rapport with potential customers is to show them evidence of your past successes via case studies and testimonials.
Current research shows that approximately 92% of customers read online reviews and 88% incorporate those reviews in their decision-making process. Many turn to social media outlets such as Facebook and Yelp to find information about a company.
By reaching out to your customers and asking them to leave a review, you increase the likelihood that new customers will find you and trust you enough to purchase your services.
It may be tempting to ask only very satisfied customers to review you or to artificially inflate your 5-star average on Facebook by deleting bad reviews, but 95% of customers are suspicious when a company has only good reviews. By allowing a mix of reviews and responding publicly with an offer of assistance to customers who report a bad experience, you can cultivate trust in those considering your service.
On your website, you have more control over what appears under your business name. This is where you can really leverage the outstanding work your company has done. Feature the best, most specific reviews of your service on the site. Try to contact highly satisfied clients and ask if they would like to be featured on your site in a case study. By interviewing them and providing pictures of the work (if applicable), you can build a compelling "case" for prospective clients to hire you, while reinforcing trust with your existing customers.
---
Protect Confidential Data at All Costs
When customers do business with you, they trust your company with sensitive data, such as credit card information. It's vitally important to show that you have the systems in place to protect any private or confidential information they give you.
You can document the general level of security you have in place and display an SSL certificate on any website that collects sensitive information from clients. If relevant, walk clients through the measures you take to protect their information.
Since customers also value their privacy, it's important to have a privacy statement for them to read at any time (often, many won't read the statement, but its very existence brings them peace of mind). Once you've set a privacy policy, abide by it to retain their trust.
---
Follow the Golden Rule
Ultimately, your customers are people with needs and feelings not unlike your own.
Treating them with dignity, patience, and respect – even when they seem unreasonable – will do wonders for their trust in you. If you run a B2B company, make sure you and your team build relationships with the individual people at the companies you service.
Give them reliable service (more on this here) and personal attention. Going above and beyond for them when they are in a difficult situation, such as meeting an unexpected deadline, will win their loyalty and accolades.
By meeting the needs of your customers, remaining open and honest in your communication, and providing evidence of your expertise, you can and will establish credibility and trust with your customer base.