Customer satisfaction surveys are effective means for ensuring quality service and gaining constructive feedback. After all, "if you don't appreciate your customers, someone else will."
However, with so many companies giving out CSAT surveys, survey fatigue has become a real thing. Increasing response rates is now a major challenge for many organizations. What's the point of sending them out if people aren't going to answer them?
Thankfully, Simplesat has many ways to help you out in this regard. Try implementing the 9 tips listed below and track your progress over time. Remember, improving response rates is a battle of inches.
What matters is that you're improving over time, ultimately resulting in more and better quality customer feedback.
---
1. Include your CSAT survey in the emails you already send
Avoid sending customers additional emails asking for their feedback. Instead, embed the survey in the existing notification email your customers get when you close or solve a ticket.
This makes the survey more immediate and convenient for your customer to answer.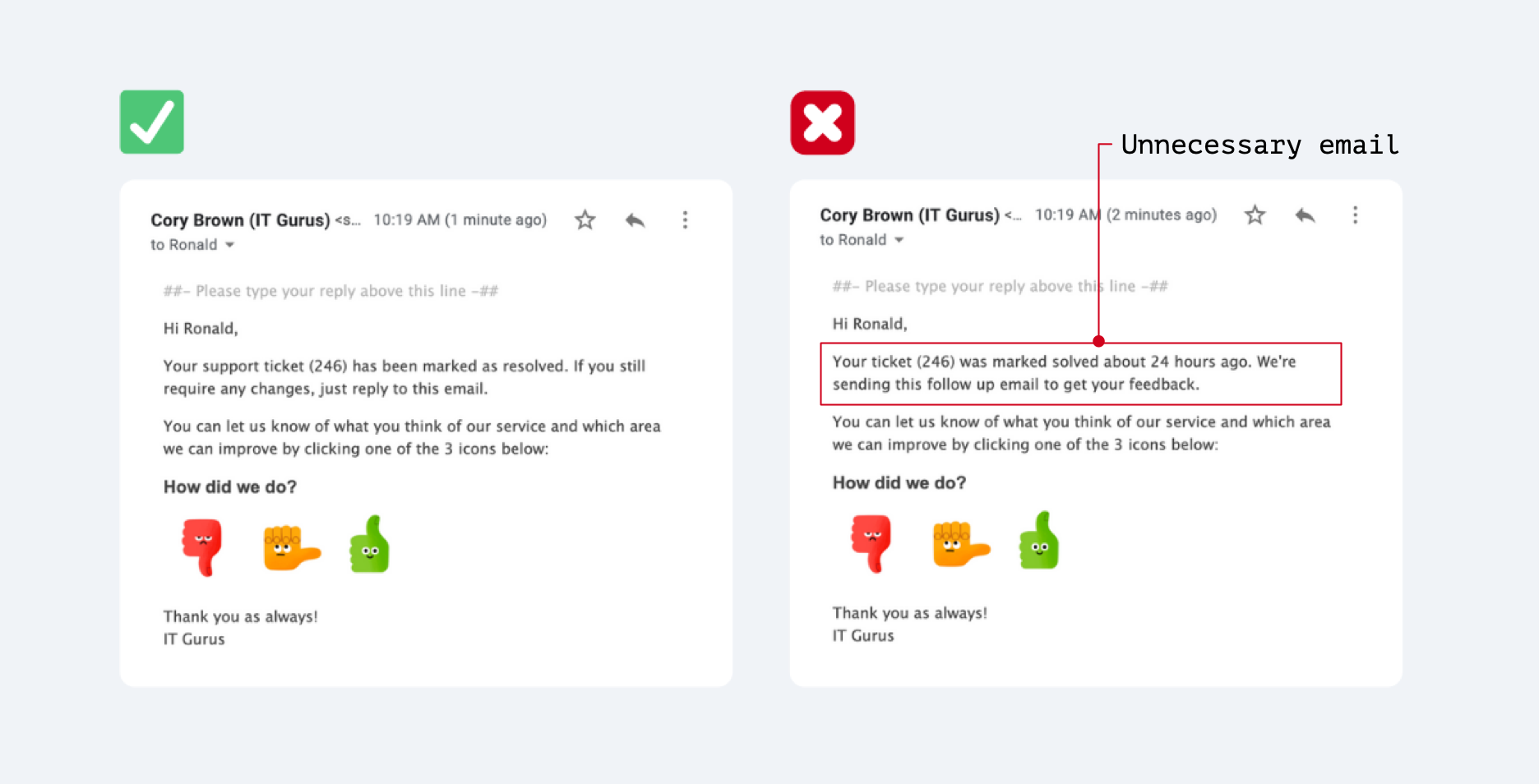 ---
2. Make your subject line compelling
If your customer doesn't open your CSAT survey email, then you won't get any feedback from them.
Deliver a request or command in the subject line to compel recipients to open your email and answer your survey.
For example:
Your ticket has been resolved – tell us how we did!
Kindly review Request #98765.
Your feedback is important to us. How did we do on Ticket #12345?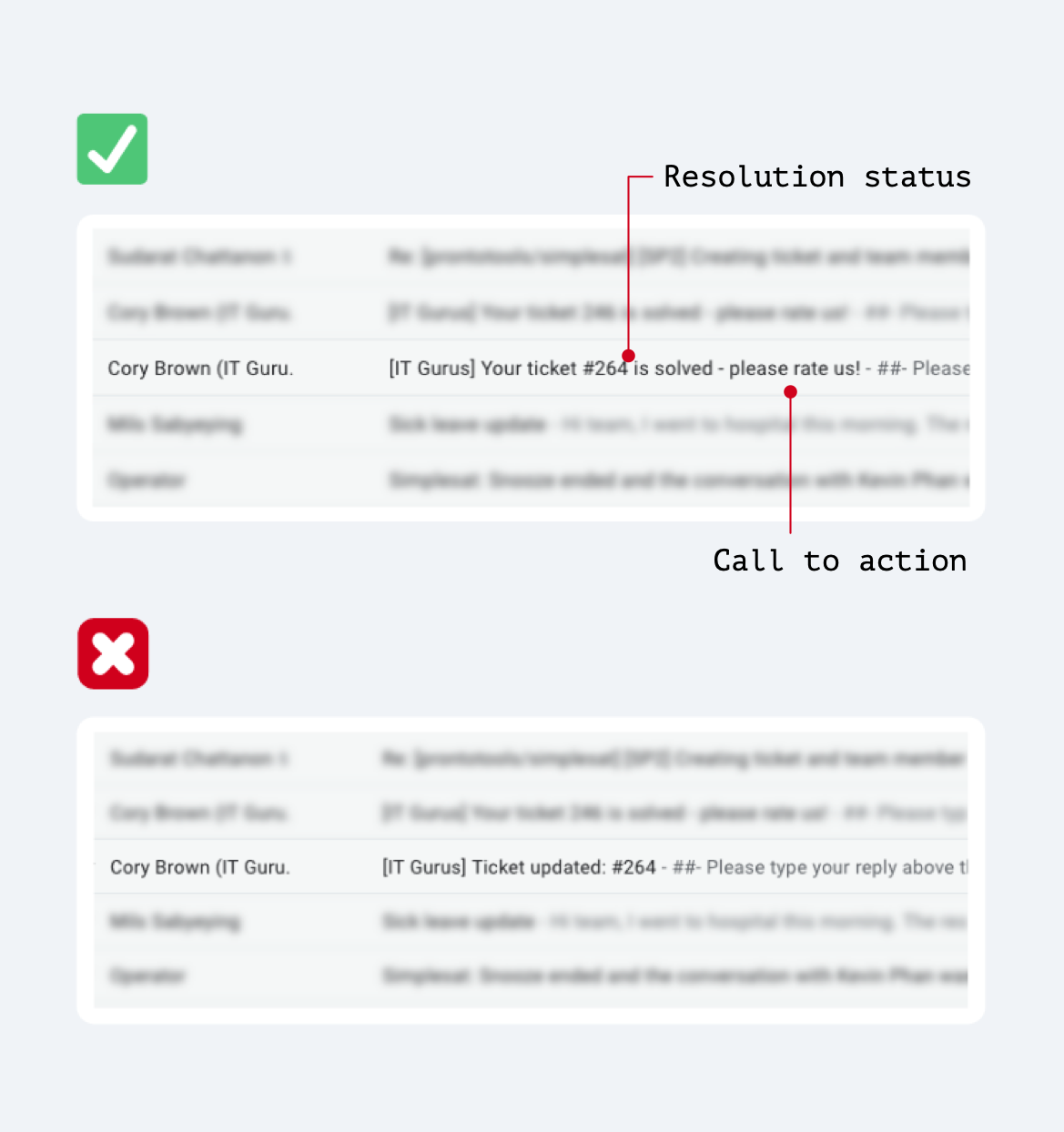 ---
3. Make the survey visible and engaging
Once your customer opens your email, don't make them scroll past a wall of text to find your survey. It's the most important part of your email, so put it as close to the top as possible.
Additionally, use colors and images to lift the spirits of your customer. With Simplesat, you can use eye-catching animated emoticons to help respondents express how they feel.
Check out the two surveys below. Which version are your eyes drawn to?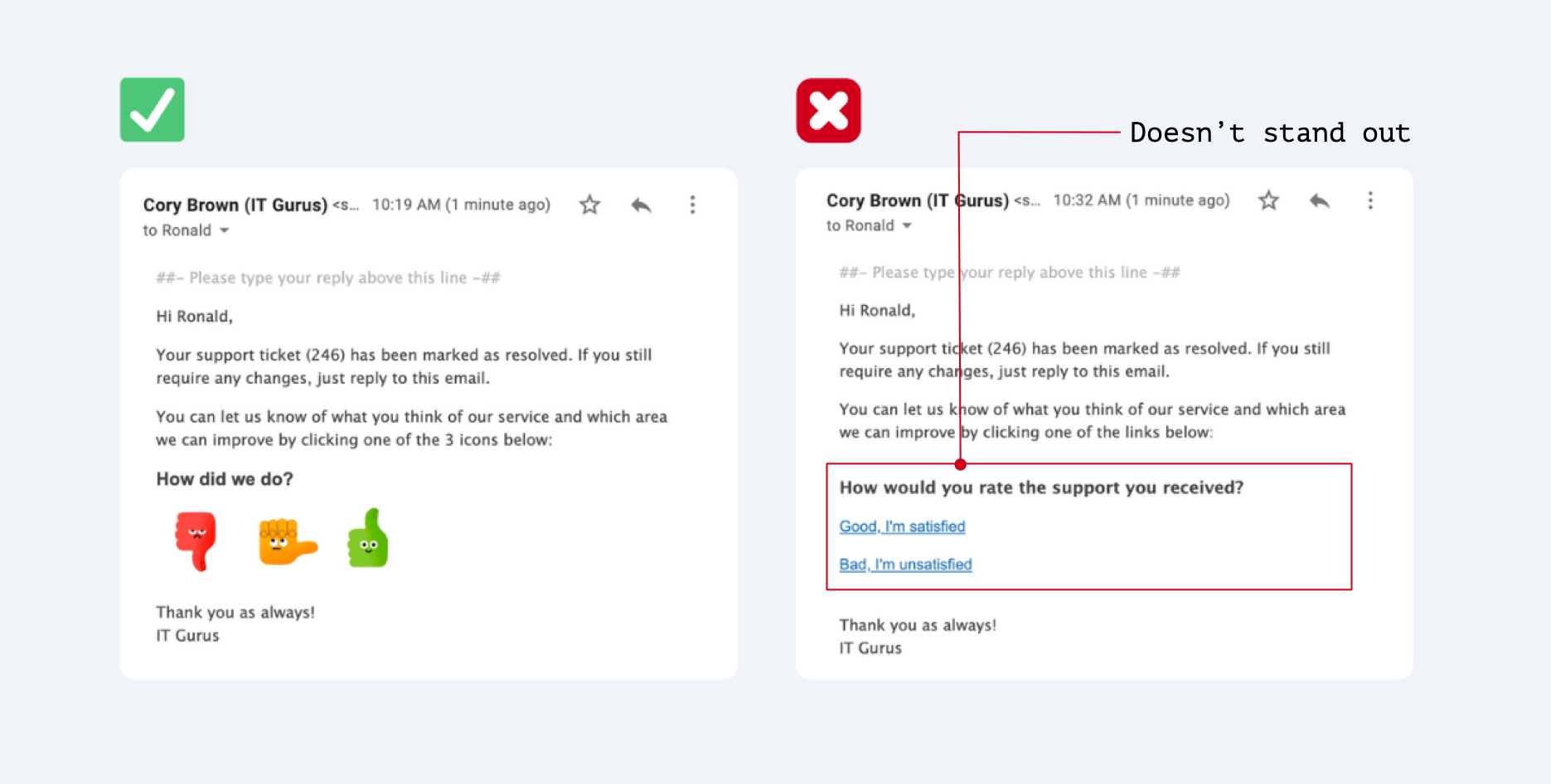 Making your CSAT surveys colorful makes completing one feel less like a chore and more like a delightful reprieve from everyday stresses or the doldrums at work. A few cheerful graphics can go a long way to help people complete your surveys.
---
4. Experiment with different question scales
Another way to make your surveys engaging is to implement interactive question styles such as five-star ratings, but don't forget to make these work on all devices, be they desktops or mobile devices.
A two-scale survey is the simplest option, but its black-and-white nature can fail to capture the shades of gray that customers may be feeling in between "Everything is perfect" and "You're the worst."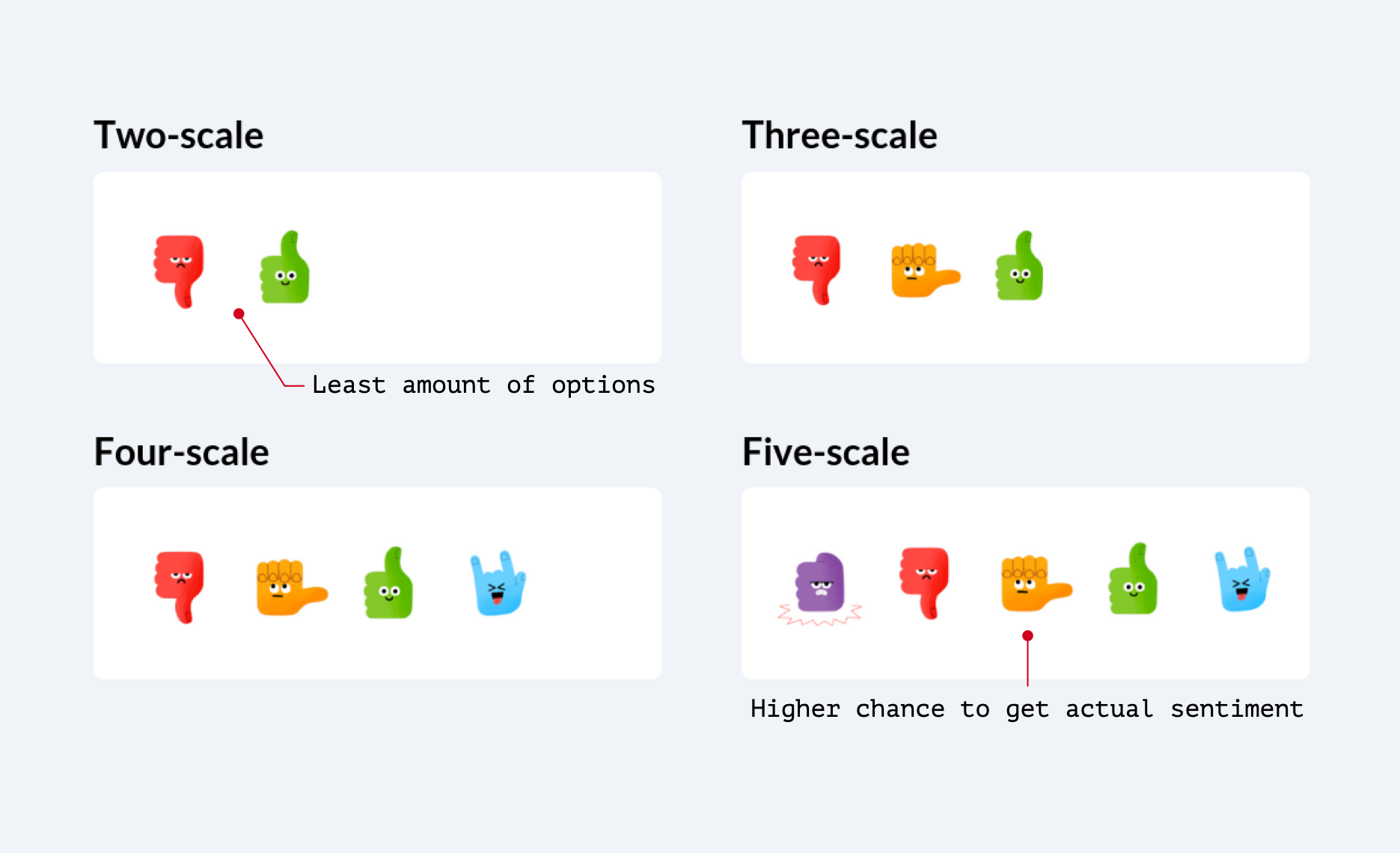 Configuring a survey to have three, four, or even five choices might bolster response rates for customers who feel "in the middle." To help you collect more accurate assessments, Simplesat gives users the option to choose from two, three, four, and five-scale questions.
---
5. Ask the right questions
Keep your surveys laser-focused on the experience your customer just had. For example, immediately after a customer books a flight online, you can ask them, "How did you find your online booking experience?"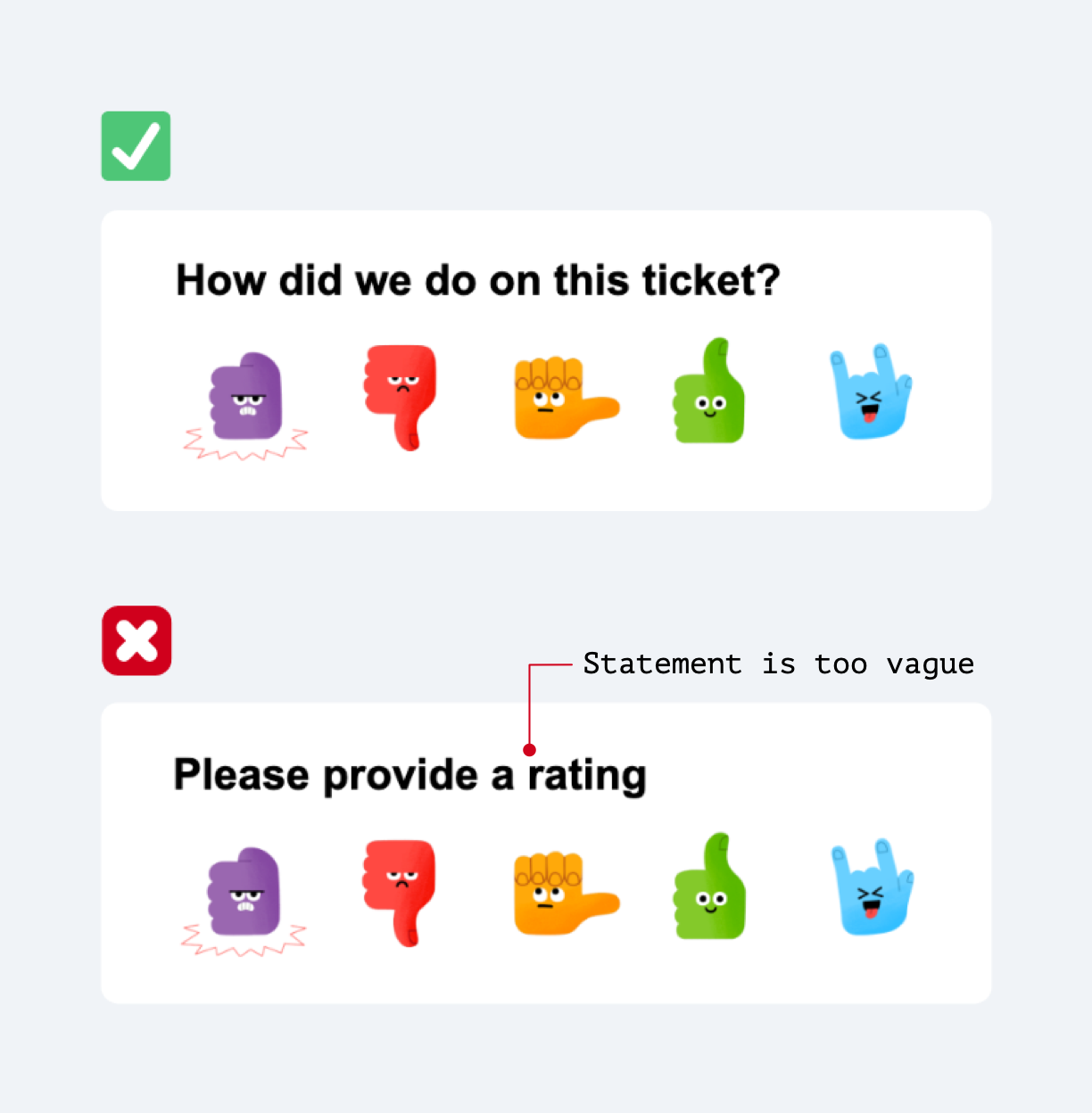 By referencing the situation you're asking about (i.e., instead of asking something general like "Is there anything we can improve on?"), the customer will find it much easier to respond. They won't have to put any effort into recounting particular events of their experience just to get their point across.
---
6. Make it personal
More and more customers are aware of the role chatbots play in marketing and customer service and most still prefer human connections. If the survey is connected to a ticket with an assignee or a personal email signature, use that person's name to make things more personal.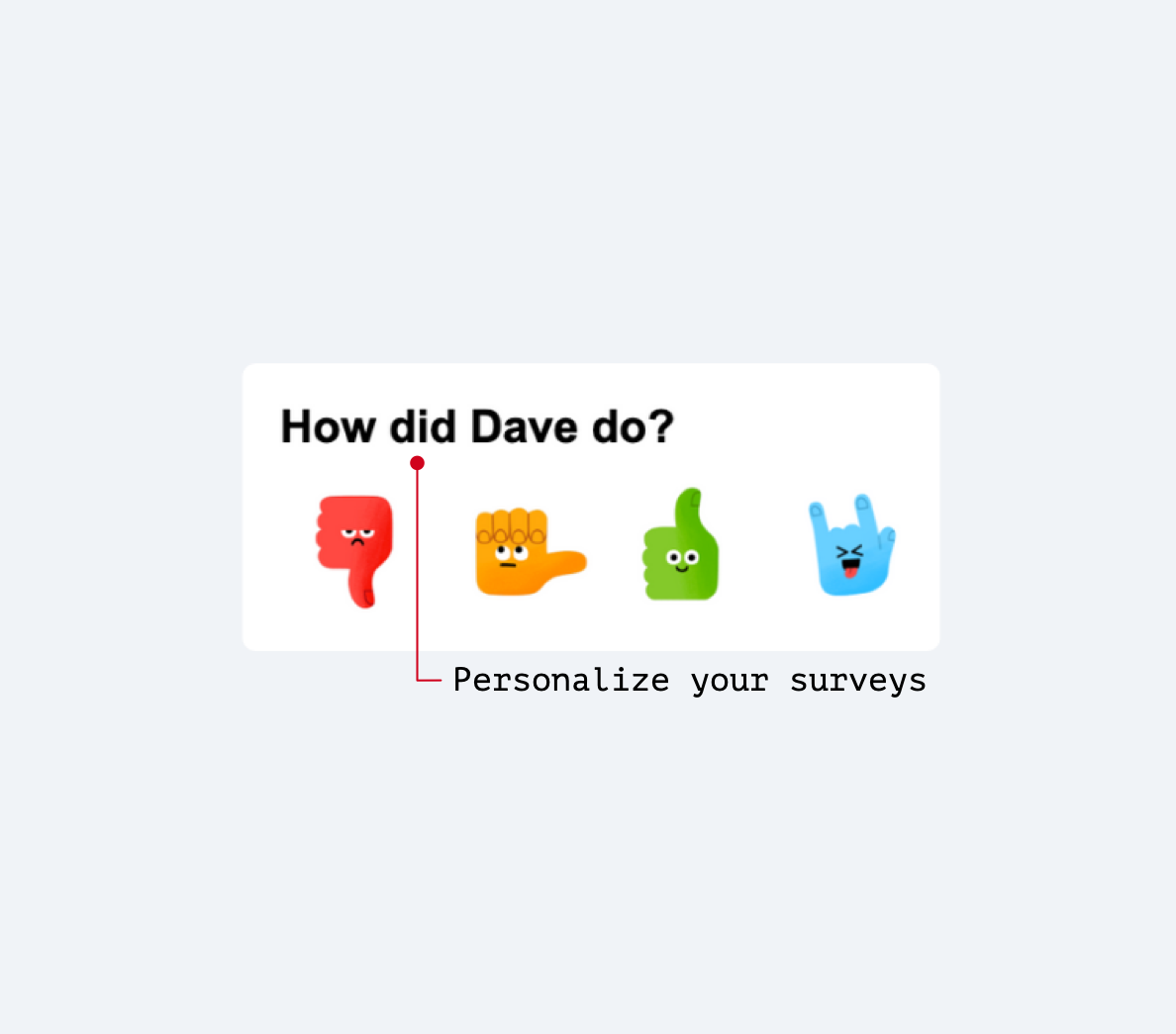 For example, you can ask "How did Dave do on this request?" This lets the survey recipient know that there is another human being on the other side, someone who can grow and provide better service to you because of the feedback you provide.
---
7. Keep it short and simple (don't make your customer think)
You are but one of the thousands of companies asking customers' feedback, so don't bombard them with email surveys. Also, practice keeping it down to one question so you'll be forced to ask about the thing you really want to know.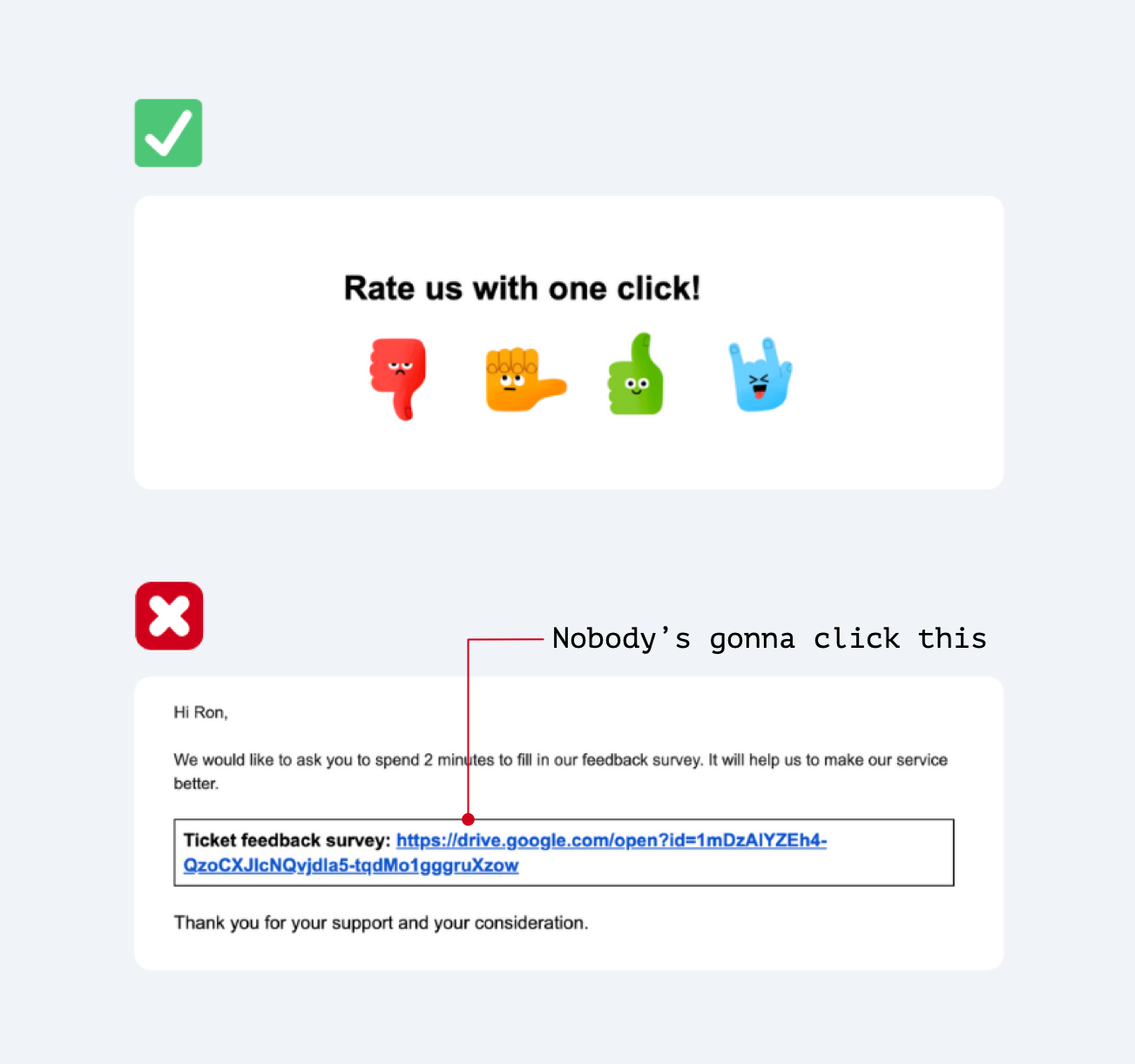 A surefire way to increase survey responses is to let people rate you with a single click. This fits perfectly with Tip #1: Embed surveys directly into your emails. Remind them how easy it is with a statement, such as "Rate us in one click!"
With Simplesat, each rating click is saved automatically. This means that you still gather feedback even if respondents don't complete or submit your survey.
---
8. Give an incentive for answering your survey
An effective way to increase response rates is by rewarding survey responders with good feelings. At Simplesat, we've seen some users have a lot of success with an incentive program where they donate money to charity for every rating.
Check out Providence, an exemplary Simplesat user who donates $5 for every rating in their Feed Back with Feedback program.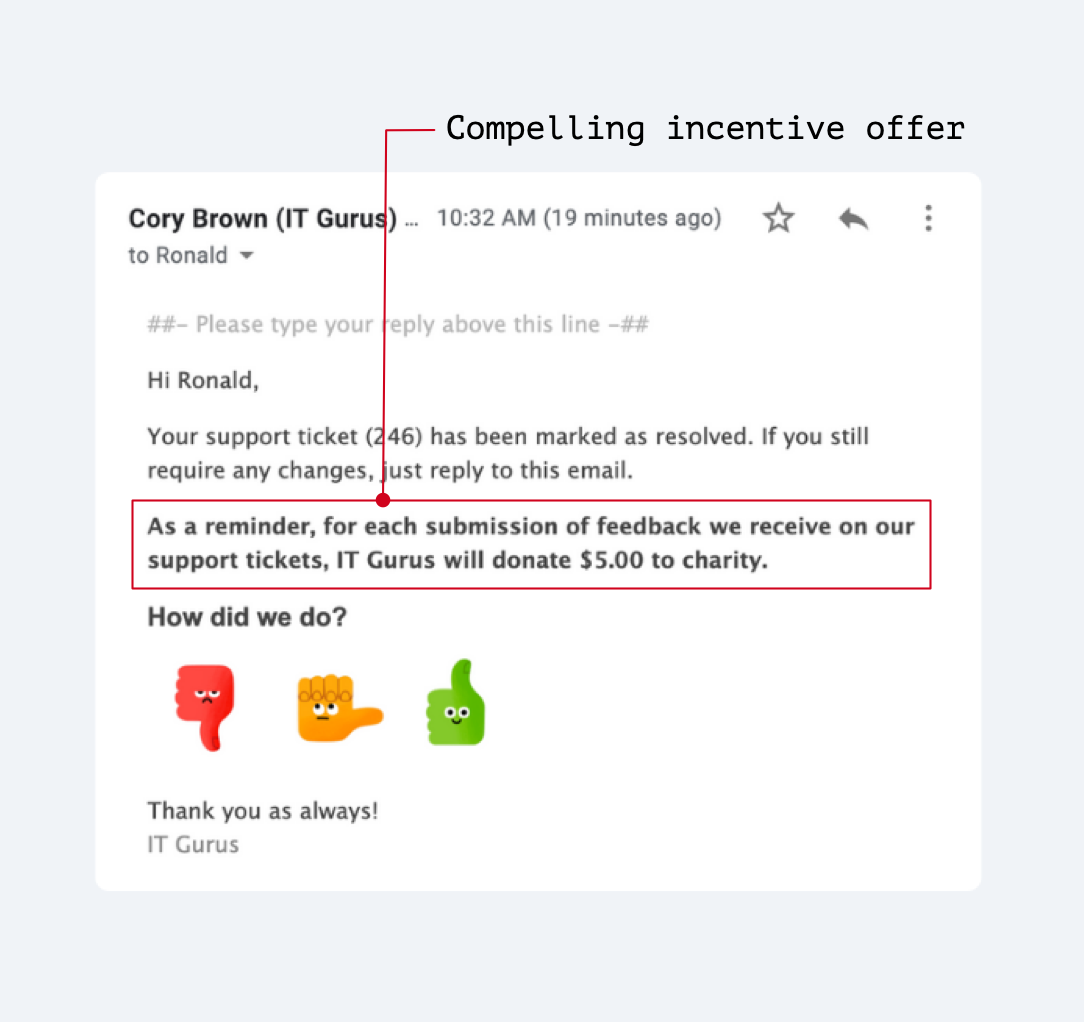 ---
9. Track response rates over time
There are many factors that can affect your business's response rates, such as company size, ticket volume, the type of requests you receive, your relationships with customers, etc. Of course, another major factor is the survey itself.
Simplesat makes this easy to view in the satisfaction dashboard.

---
Lastly, take action after you receive feedback
Many businesses out there claim to treasure customers feedback, but then don't respond or devalue the response by letting a chatbot do the work. Always acknowledge receiving feedback, and have a real person follow up on feedback, especially if it's negative.
---
Getting more (and higher quality) feedback is crucial for measuring and improving customer service. Put the tips above into actual practice by giving Simplesat a try for free. Simplesat's easy-to-use satisfaction survey tools will help you gather the feedback you need while making your customers feel truly valued and taken care of.