If you've ever been involved with a B2B case study project, you know how difficult and time consuming they can be!
There are just so many challenges that can come up during the process of interviewing clients, gathering all the information for your case study, and putting everything together. 
Luckily, all of these failures can be reduced or eliminated with proper set-up. Having a proper organization and the right approach to tackling a case study project will significantly increase your chances of success.
We've partnered up with our friends at SuccessKit to create an overview guide on leveraging your loyal customers to create case studies that sell.
---
$300 off your first case study
All Simplesat clients are eligible to receive $300 off your first Case Study or 10% off any package from SuccessKit!
(Simplesat doesn't make anything here, we're just passing along the discount ✌️)
Steps for a successful case study:
Identify your best Case Study subjects
The first step in creating compelling case studies is finding your most satisfied and loyal clients.
Simplesat makes it super easy to zero in on the best clients to choose from. 
We recommend looking at the Promoters from an NPS survey, as these are customers who have clearly stated that they are more than likely to recommend you to a friend or colleague. 
You can even view feedback from individual clients.
You will probably have many options of happy clients. Here are some tips in what to look for in the perfect Case Study subject. 
Avoid new clients

– New clients won't have those meaty, proven results that make up a winning Case Study. You want a subject with whom you have real, tangible results.

Don't focus on only your largest accounts

– A big account with the recognizable brand is the sexiest option for a Case Study. Unfortunately, it can be difficult to secure approval from a big-account client. There's nothing worse than putting in all the work on a Case Study and then having the approval shot down by the client's lawyers.

Work with just one contact for the Case Study

– It's nice to get multiple quotes in the Case Study if possible, but having one person to interview will save you a lot of energy.

Opt for the highest-ranking person possible as your subject

– The more impressive a Case Study subject's job title, the more impressive the Case Study.
Once you've identified your target clients, it is time to find out whether or not they are willing participants.
Don't be disappointed if they don't all agree, this is common.
SuccessKit advises their clients to reach out to several contacts in the hopes of completing your first Case Study. 
Here's an email template you can start with:
Dear client,
We're looking to create Case Studies to help our prospects see and understand the value of our service better. We will be showing these Case Studies to new prospects, and featuring them on our website. 
We have an efficient process that should only require about 20-30 minutes of your time. We will have you fill out a quick questionnaire, and then a 15 minute phone call interview. 
You will get the opportunity to review and approve the content before it is published. 
Would you be willing to participate?
If you're having trouble getting clients to participate, you could consider adding a small incentive, such as a $50 Amazon gift card.
Confirm Permissions + Background
Once the client has indicated a willingness to participate, it is time to confirm permissions and move forward. 
According to SuccessKit, the most common reason case study projects fail is a miscommunication about the client's ability to let you publish their name and logo, so we recommend getting explicit permission before going anything further. 
At the same time, you can use this as an opportunity to get a quick background from your client to confirm their story will make for a compelling case study.
Once you get formal permission and a background, it is time to interview your client. 
Quick setup tips:
Schedule 15-30 minutes 

Use a meeting room and record the call so you can get it transcribed (SuccessKit uses

rev.com

)

Remind the subject they will get to review and approve the content
Remember, you don't want to come in flying blind.
Before the interview, review their account with anyone internally that works with them and note any key metrics or improvements, and review the background information they provided. Ask any key stakeholders at your organization if there is anything specific the case study needs to focus on. You should have some idea of what the case study will look like before the interview.
The best case studies start by describing the problem your client was dealing with or situation they were in before working with you, how your solution works to fix the problem and improve their situation, and the results and benefits your client gets. 
You should structure your questions around these three areas: Problem, Solution, Results.
Sample interview questions for case studies and customer stories
Problem or Situation questions:
Who was managing your technology before working with us?

What were your biggest frustrations? 

What happened with you tried to address them?

How were these problems affecting your business? 

What was it that made you realize you needed to make a change?

How did you first find out about us?
Solution questions:
In your own words, can you tell me in a few sentences what we do for your company?

Why is this so important?

How does this impact you and your team on a day to basis?

How does working with us differ from your previous IT provider
Results questions:
How much do you worry about your IT now vs. previously?

What has your staff said about your new IT set up?

What impact do these improvements have on your business?

How do you feel about the ROI on this investment?

What are the most key metrics that show you this is working?

Can you point to any revenue growth or cost savings as a result?
Remember, these questions are just a starting point for what you'll actually use. You should tailor the questions to your industry and the specific situation.
Now that you have all of the information, it is time to write the case study. Using the background you collected, and the transcription you collected, write the following sections.
Summary (1 sentence) – summarize the most important problem you solved or result 
Problem / Situation – Explain who the client is, and then describe the problem they were having before working with you. If there was not an explicit problem, describe their situation and where there was room for improvement. 
Solution – Explain what you do for the client. Keep it simple – you don't want to focus on the technical details. Rely on your customers quotes and words.
Results – Highlight the ultimate results and benefits your client gets from working with you. We recommend using bullet points and specific numbers whenever possible
Writing tips:
Aim for about 2 pages, 400-800 words.   

Focus on your client! The Case Study is

their

story, not yours

Write from a neutral tone – "Company x decreased IT costs 15%"

NOT

"We helped our client company x decrease IT costs 15%"

Integrate quotes throughout the text. SuccessKit's Case Studies are about 30% quotes from the client!

Avoid unnecessary details and technical specifics
You will likely need to hire a graphic designer to do the layout. Review some examples of case studies you like, and show them these examples and your own branding. Make sure the designer understands this is your content and to use your branding. 
Here is a quick guide to files you'll want to send to the designer:
Your client's logo

Your logo

Your colors and texts

Image of your client

Screenshots, dashboards, any images you have that show your client using your solution
Here are some finished examples of case studies for you to get some ideas.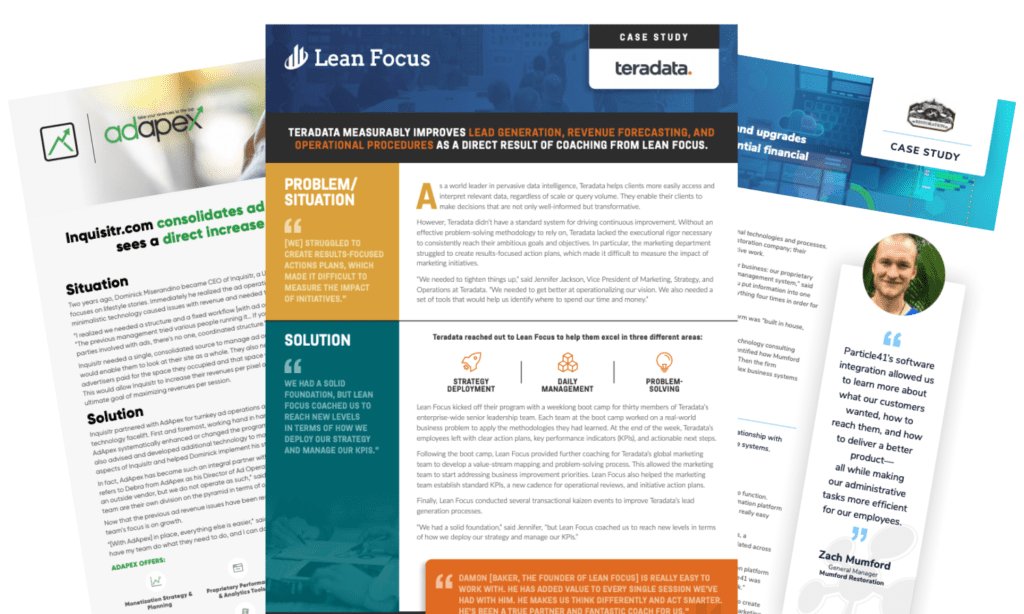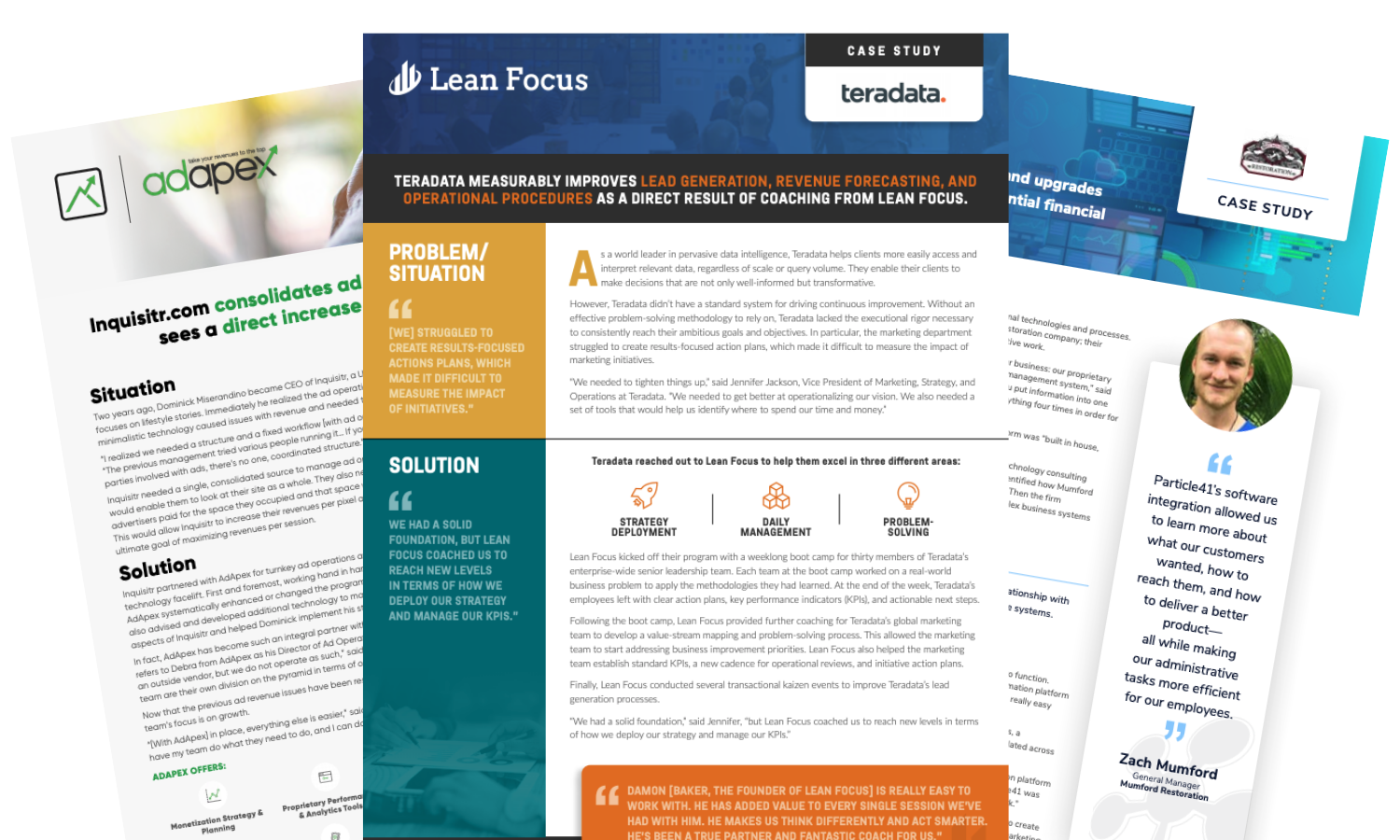 Remember, from the beginning you told your client they will get to review and approve the content. Send it to your client and ask them if they have any edits. Do not publish or send to any prospects until they give final approval on the content. 
Your case study is now complete and it is time to put it to work! Here are some suggestions on where to publish:
Your website

– Add to or begin to build your "our clients" section

Sales process

– Send to clients as a relevant example in all stages of the sales process

Marketing campaigns

– Summarize the problem you solved or results you achieved for your client in digital ads.

Social Media

– With your clients permission, post a short summary of the Case Study, and a link to the full version