Trust has always been important in business. When your company is perceived as trustworthy, sales roll in effortlessly. But the internet has changed things.
Today, an unprecedented amount of information is available at our fingertips, and a quick Google search can reveal crucial details about a company's reputation. This is why social proof is vital. Your review ratings or a testimonial from an influential company exec can be the difference between a flood of new customers and a wasted marketing budget.
To win customers online, you must create social proof at every stage of the buying journey.
---
Generate online reviews get prospects in the front door
Your trifecta of trust begins where all customer journeys begin: enticing a lead in your front door. And reviews are just the social proof to win them over and score a click to your website.
Consider these 3 stats:
These days, searchers can find your review rating fast by Googling the name of your company. And the results they see either convince them to enter your website, or search for another solution.
The project management company Basecamp illustrates the power of reviews.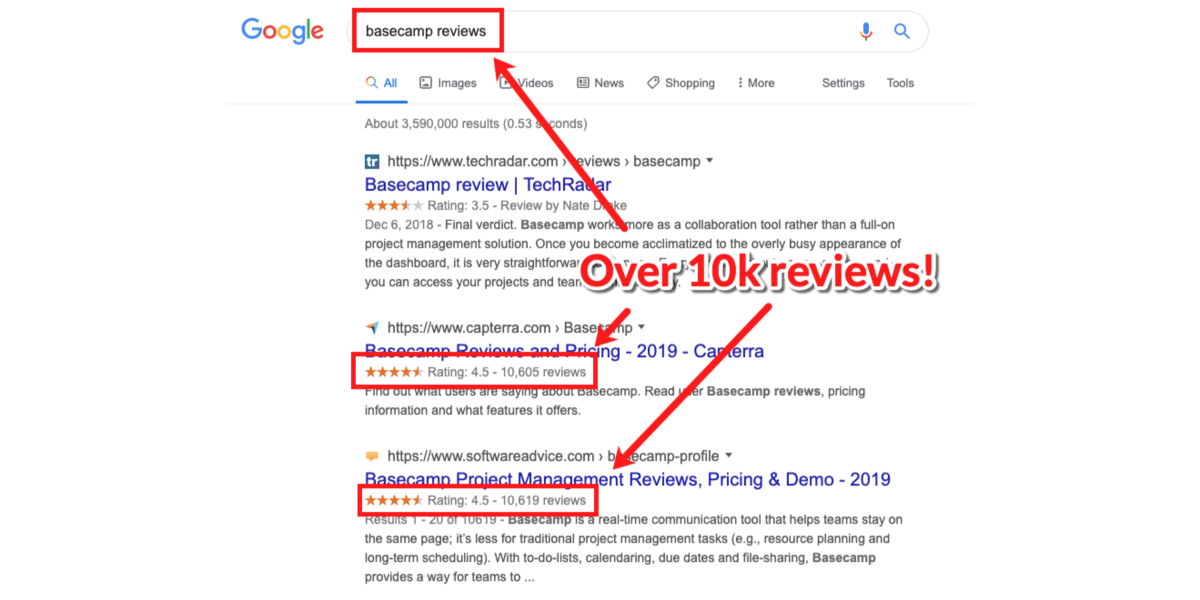 No, you're not hallucinating. Basecamp does actually have over 10,000 reviews from multiple websites. And this authoritative social proof is likely part of the reason why their user numbers have doubled in size within the past six years—exploding to 3 million+.
Tips to get reviews
If you're like most business owners, you likely dread the thought of getting reviews. Not because they aren't valuable, but because they can be a royal pain in the butt to acquire. You have to individually email customers, follow up with them (usually on multiple occasions), and then pray that they actually leave a review! The whole process can take hours, if not longer. How can you simplify things?
The key is to ask the right customers at the right moment. For example, if a customer just sent you an email raving about your service, then capitalize on those good feelings and ask for a review.
Simplesat, and other customer satisfaction tools, can automate the process to save time and help you get more local leads using positive Google reviews. Below are two ways to do just that:
Strategy 1: Ask immediately after a positive satisfaction survey comment
Before you can leverage positive feedback, you first need to optimize your customer satisfaction survey response rates. Once you've done that, you can easily automate review requests when a customer responds positively to a CSAT survey.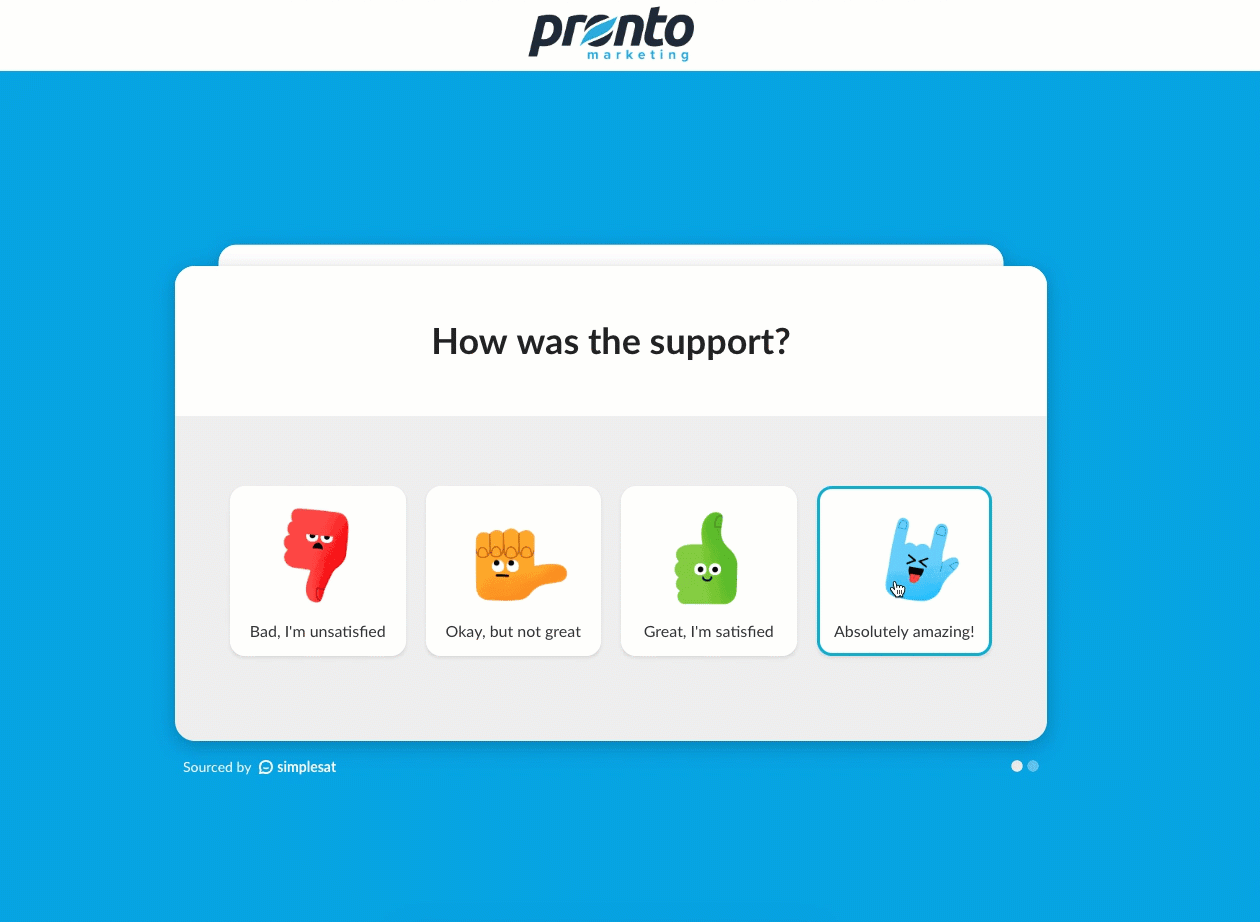 Strategy 2: Follow up with customers after receiving a positive NPS score
Similar to the satisfaction survey above, NPS software combined with a customer communication tool like Intercom can automatically send a review request after receiving a positive score.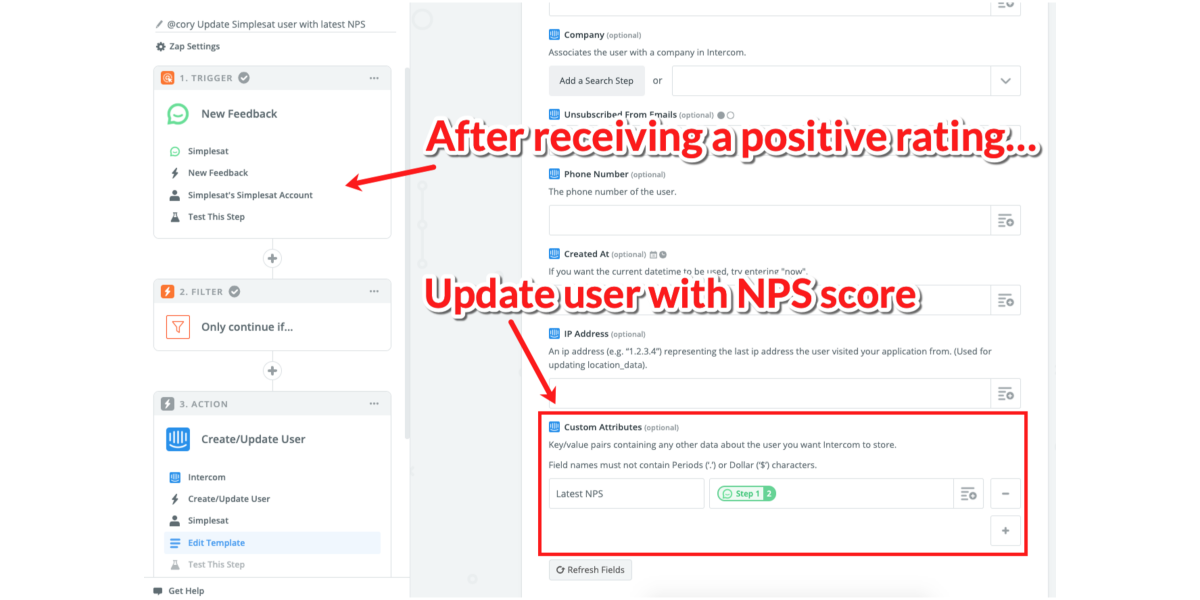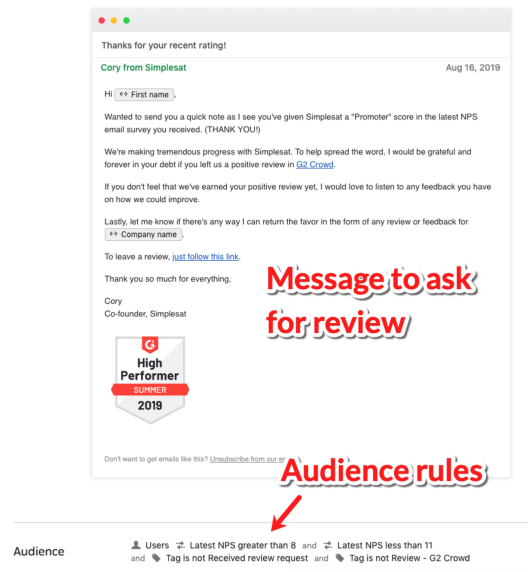 The whole process is completed automatically, with no effort on our part. And best of all, 18% of these automated requests have resulted in a review!
---
Use website testimonials pique visitors interest
Your high numbers of quality reviews got the cold lead in your website's front door. Now what? To keep your prospect interested, you need to continue building the trifecta of trust. That's where testimonials come in.
When prospects are on your website, they're looking for reasons to trust you or bounce. Testimonials provide additional reassurance that your business is trustworthy. And when prospects read about other customers' positive experiences, they start to think, "Maybe I too will have a good experience with this company. Maybe they too can solve my problem."
Basecamp, again, provides a stellar example of how testimonials build trust and social proof.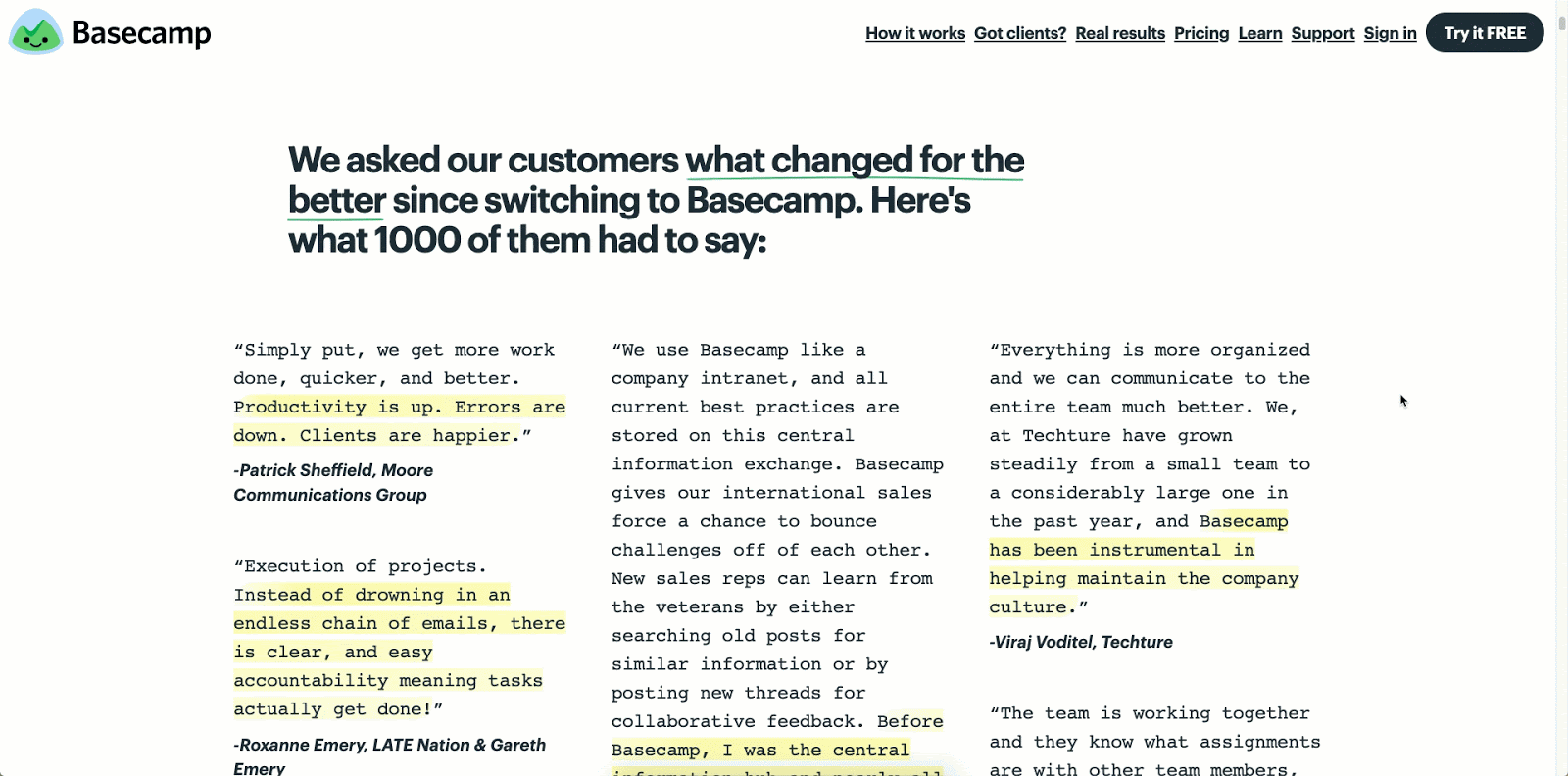 The company has 1,000 testimonials on their website. Now, no one's going to read all of them. But the fact they're there gives customers those ooey gooey, warm feelings of trust and "wows" them with credibility.
Tips to get testimonials
Just like reviews, acquiring testimonials can be a huge pain. But the process can be made easier by using comments from CSAT surveys.
Simplesat makes this easy by enabling you to publish these positive comments on your website in real time. Just click the megaphone button to the right of the comment.

The finished product looks like the example below, from one of our users Pronto Marketing.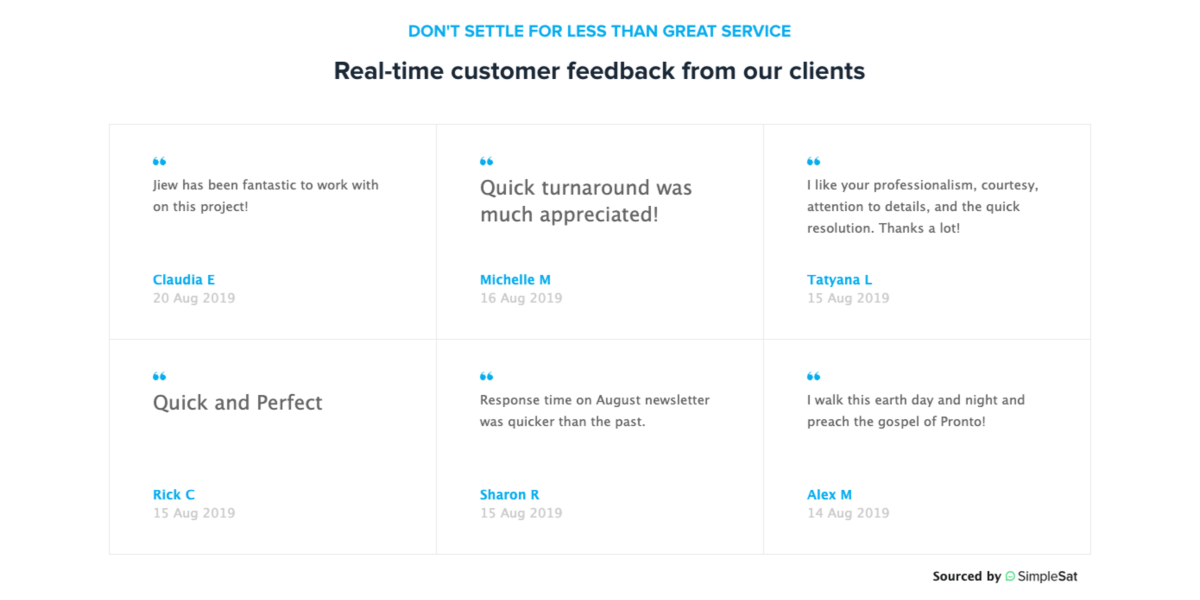 As a bonus, notice there's a date next to each testimonial. This provides an additional layer of trust by proving your reviews are recent.
---
Develop case studies get prospects to pull out their credit card
No trifecta of trust is complete without the money maker: case studies. Unlike a review or testimonial, case studies dive deep into the details of how your business helped a client. They provide statistics, specific results, and a story that shows your customer's transformation from troubled to triumphant.
A good example of a compelling case study is from Intercom. Notice how results are shown immediately when a visitor lands on the page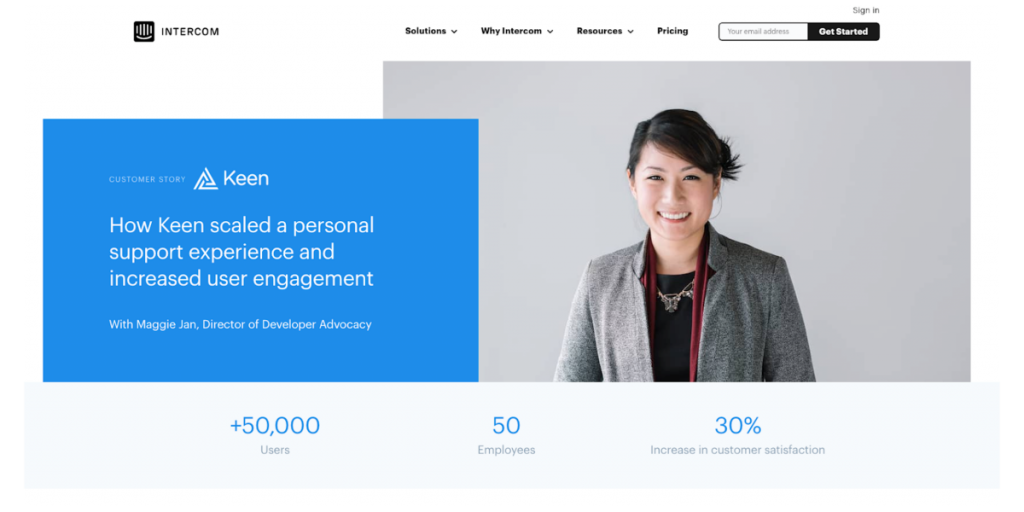 The same case study also highlights client quotes, which provide additional comfort to the prospect.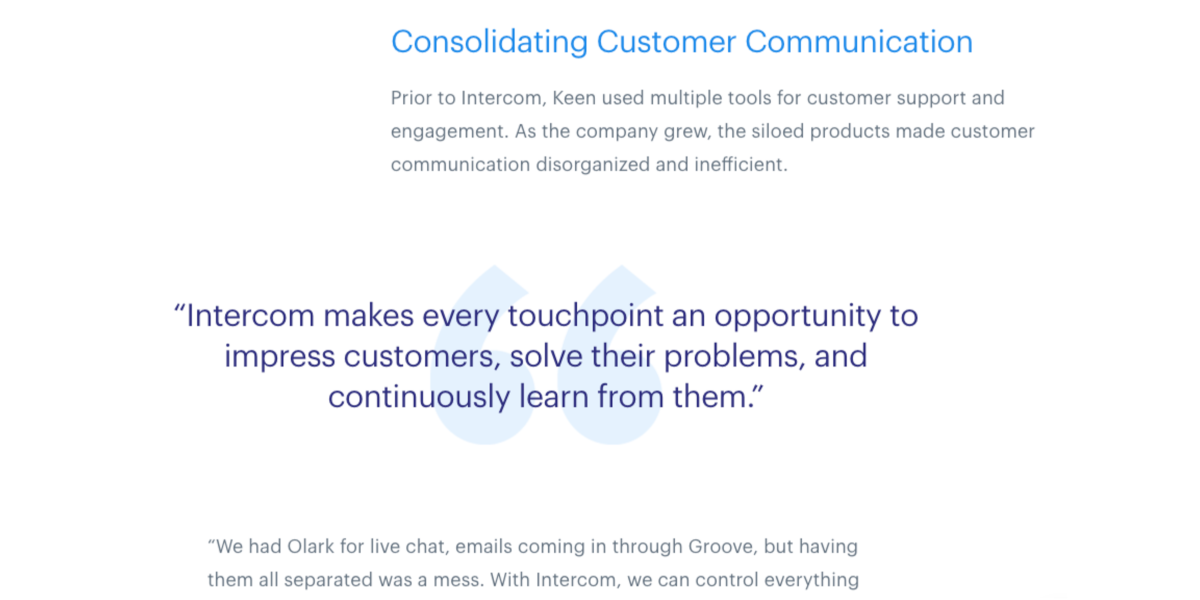 When a prospect is in the "consideration stage" of the funnel, they're looking for that final push to buy your product. Case studies, like Intercom's, provide evidence that you deliver on your business's promise. And because of this, they often lead to our story's climax: the prospect becomes a client.
Tips to get case studies
Like reviews, the best time to ask for a case study is soon after receiving positive feedback. NPS software can be used to simplify the outreach process. For example, in Simplesat's Intercom account, we have a segment that automatically updates for all customers who are Promoters (9 or 10 NPS).
When we want a new customer story, we use this list to identify users who we'd like to work with. Then we use an email template to compose a quick message to the customer.
Below is a template we've had great success with: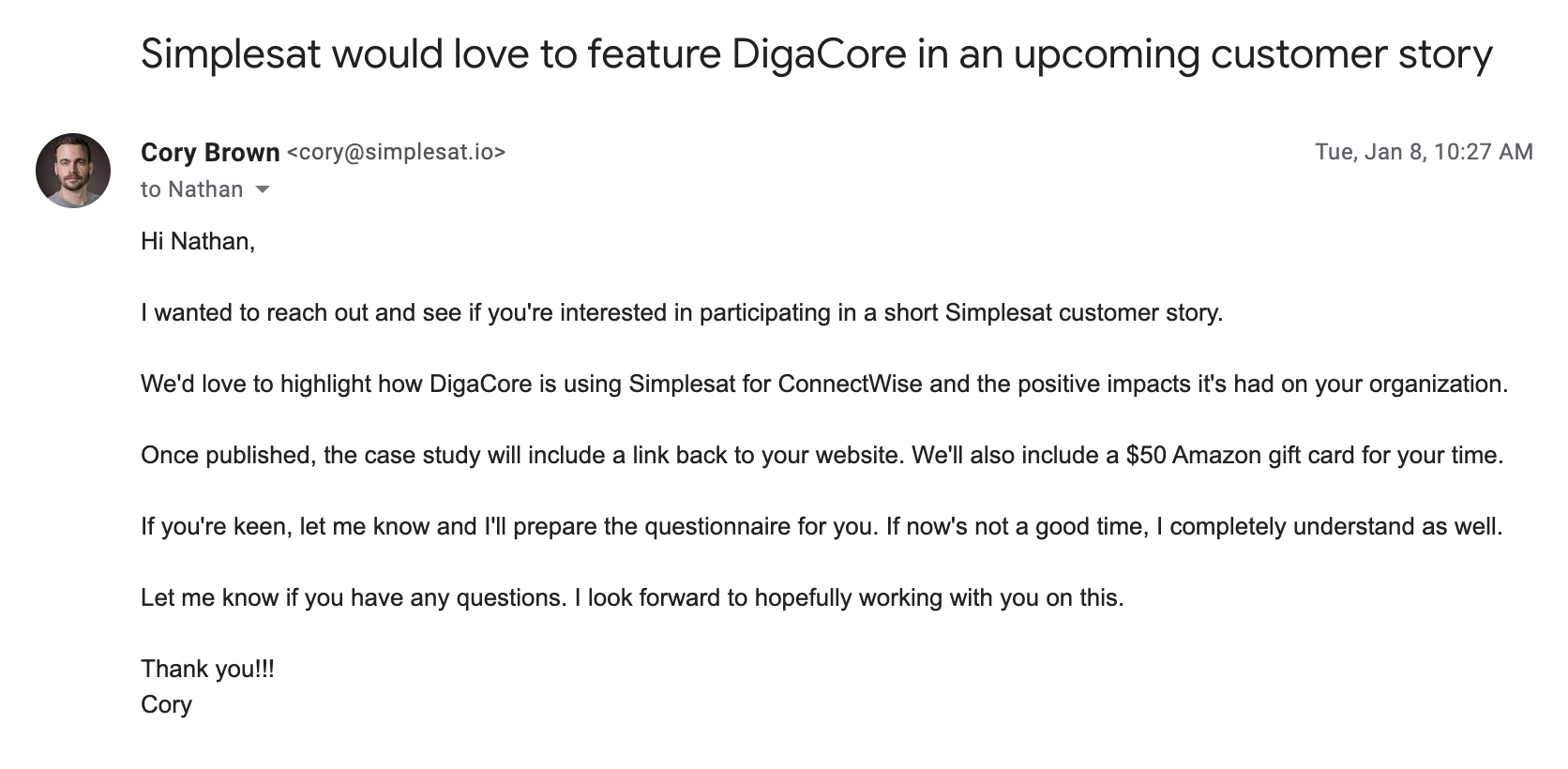 The entire outreach process takes us less than 5 minutes. And you can do the same with NPS software and a solid email template.
---
Building a trifecta of trust can be simple
The three stages of the trifecta build trust at every point in the online client acquisition journey—from the first moment a prospect comes in contact with your company, to the second they're ready to buy. The more places you can exhibit social proof, the more likely a cold prospect will be transformed into a customer. So be everywhere.
Acquire reviews on Google, social media, and other sites. Broadcast your testimonials on your homepage and in advertising. And share your case studies on your website and in your newsletter.
That said, our guess is this process probably sounds a bit overwhelming. So if you decide to build trust by contacting customers individually, we suggest you always keep it simple: build your trifecta one step at a time. Start with reviews or testimonials. Then once you've gained traction, choose a different corner to work on. In time, your social proof will grow and more clients will come your way effortlessly.
---
How Simplesat can help
Let's be honest, building social proof manually is time-consuming, no matter how much you simplify the process. And for that reason, Simplesat can help automate the process as much as possible, because it will save you time, money, and headaches in the long run. Our software has played an integral role in building our trifecta, and we're certain it can do the same for you.
---
Try our software now with a free 30-day trial at no cost to you. Sign up here in 30 seconds No credit card required. Easy to set up.