In the customer journey, most business owners focus their efforts on client acquisition. And who can blame them?
Winning new customers leads to growth (in the short term) and creates a sense of excitement. But ultimately these feelings fade…
Other business issues bubble up and the new client falls to the back-burner. Their project soon becomes a burden that interferes with getting more new clients. Is this how it should be?
What if the middle and end of the customer journey could be just as profitable as the beginning?
They can. But for that to happen, you first need to see the shortcomings of only focusing on getting new customers.
---
Are you really customer-centric?
Customer-centricity is so hot right now.
Fortune 100 companies like Amazon, Apple, and Walt Disney have upped the customer-service bar, proving that delighting patrons equates to big profits.
If you're like most business owners, you likely think your company does the same. You, after all, shower new customers with attention. But when you dig a bit deeper, you might find that once the initial excitement of the sale wears off, new customers soon become an afterthought.
Often the customer is left alone in the dark, because the focus of most customer journeys look something like this: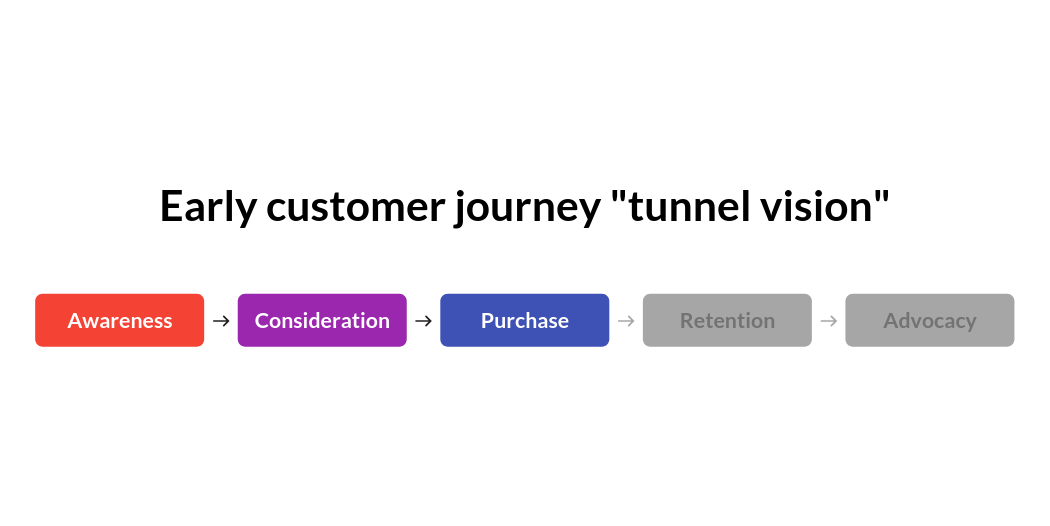 With this tunnel-view, customers are tended to with care from their initial encounter to signing a contract.
But after delivery, they're left to fend for themselves as the business's focus returns to acquiring new clients.
The next thing you know, the journey of these forgotten customers comes to an end as they take their business elsewhere. Now you've got to work harder to replace them and make up for lost profits.
Sound familiar?
---
4 common reasons why the end of the customer journey is ignored
Common sense (in this case) is wrong: Once a customer is won, you've closed the deal. Game over. Why should much attention be given after the sale? To keep growing, you must gain more customers fast. At least that's how the common logic goes…
Your wallet instantly grows fatter: Cha-ching. That's the sound of your business's bank account growing bigger. A closed sale provides an immediate financial payoff that activates your brain's reward circuit and encourages you to zone in on repeating that behavior.
The beginning of the customer journey reveals lucrative data: So much time, effort, and money is spent on the beginning of the customer journey because it's easier to attach that to numbers—leads and sales—which can be analyzed to grow your business.
Old habits predetermine your actions: According to one Duke Researcher, more than 40% of our everyday behaviors are performed out of habit. Is it possible that old habits from your business's early days are influencing your actions now? When you just opened shop, new sales were vital to your company's survival. But as you grow, your existing customer base can be even more lucrative.
---
Don't stop at acquisition! Why the next stages matter just as much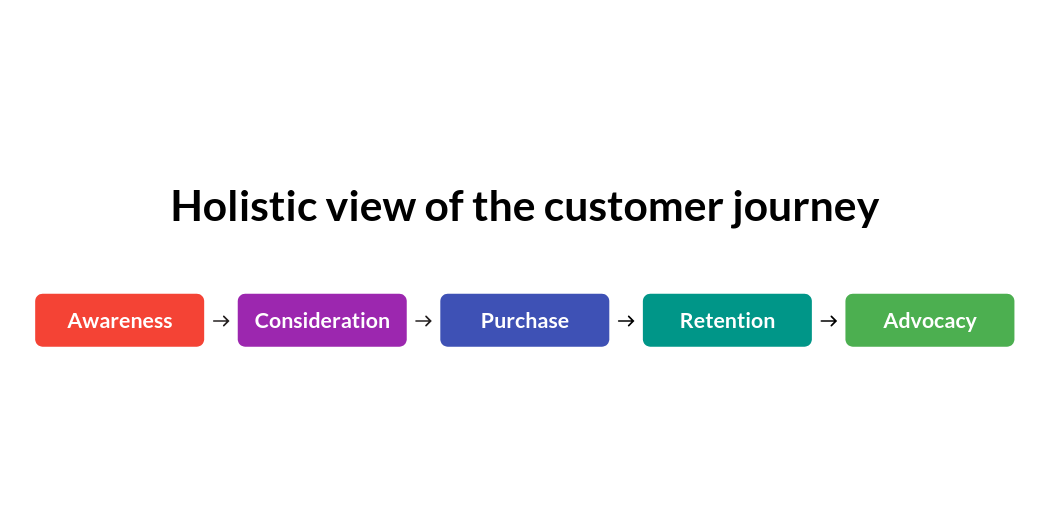 According to Small Business Trends, businesses with an existing customer base are sitting on an untapped gold mine:
Existing customers are responsible for 65% of a company's business
Repeat customers spend 33% more on products and services than new customers
A mere 5% increase in customer retention can result in profit gains of 25%-95%
Existing customers can bring in millions of dollars in referrals and repeat sales. But to do that, you first you need to identify the customers who are your biggest fans. Sending quarterly (Net Promoter Score) NPS emails to your customers are a great way to help identify potential advocates.
Once you know who these clients are, you can ask them for testimonials, referrals, or sell them on additional products or services.
---
Out the door
We also recommend giving special attention to customers on their way out the door.
Yes, the ones who are about to leave your business. While it may sound counterintuitive, these types of clients can still benefit your company even after they're gone.
Remember that a former customer isn't necessarily an unhappy customer. Perhaps that client was pleased with your service, but simply didn't have a use for it anymore. Who says they can't refer your business to a colleague who needs your product, or leave a positive review of your business on Facebook or Google?
And if they're disappointed in your product or service, it's not too late to win them over. You just need to identify those clients and their concerns.
Identifying why a customer may be at risk of leaving can also lend to the creation of an action plan for future cases, ensuring that any problems are quickly resolved.
---
Flip the funnel upside down
If you've read the popular business book The 7 Habits of Highly Effective People, you may remember the chapter "Begin with the End in Mind." The idea is you start with the result you want and then work backwards to identify the specific steps needed to get there.
A reverse funnel works in a similar fashion. You start with your paying customers because they hold the roadmap to growth. When you engage with them regularly, listen to their customer feedback, and learn from it, you'll identify areas for improvement in your business (the steps to growth).
When you take action and correct these areas, you'll ultimately increase customer loyalty and make your company more attractive to prospects.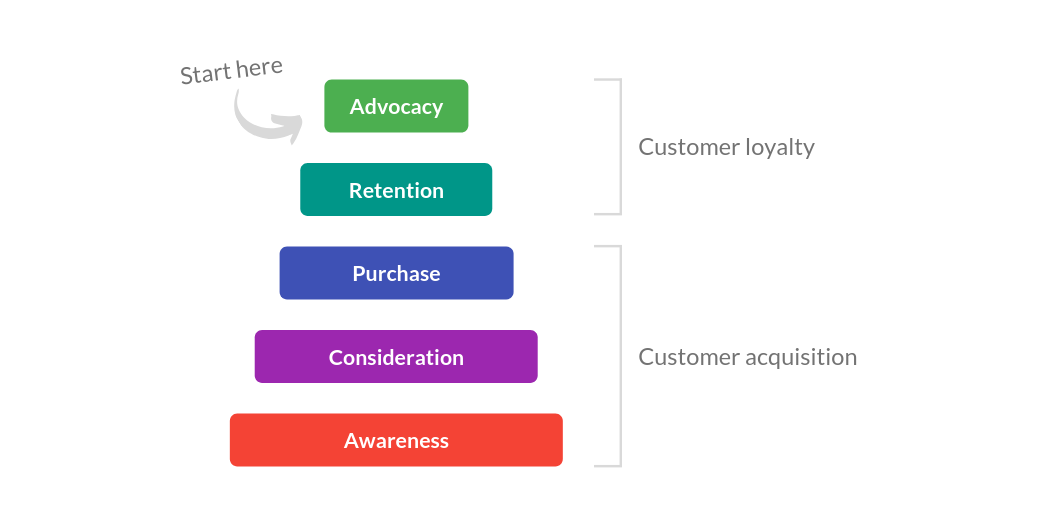 Your customers likely want to continue with your product or service, and even buy more from you. But you just need to ask them what they want and how you can do better.
As you engage with your existing customers, you can also leverage them to increase profits:
Upsell and cross sell – to current customers and even users on your free plans.
Improve your product – when you listen to your customers' feedback and improve, you ultimately provide more value, which encourages referrals.
Create referral and affiliate programs – reward your customers and affiliates for spreading the word about your business, and create a passive stream of new clients.
Enhance the customer experience – create a smoother onboarding process, educate your customers on how to gain the most value from your product, fix bugs, and constantly improve your product and service. A better customer experience equals happy clients, which typically increases their lifetime value.
Once you've implemented some of the above tactics and ensured customers are no longer leaving due to inattention, then focus on improving conversion rates and the customer acquisition process. This is where true growth happens—new customers come aboard, while current customers stick around, sing your praises, and help you generate more business passively. Yay!
---
How Simplesat can help
At Simplesat, we treat you, the customer with the same care and consideration that we preach to our audience here.
Replacing a hard-won, highly profitable customer is challenging. Simplesat's easy to send quarterly email NPS surveys are pretty darn good at helping our users identify customers who may be unhappy or at risk of leaving.
---
Try our software now with a free 30-day trial at no cost to you. Sign up here in 30 seconds No credit card required. Easy to set up.