Two-factor authentication (2FA) is now available for all users in Simplesat.
This feature had long been on our backlog, but we decided that releasing a 2FA solution was critical given how so many teams are moving to remote work and how hacking is on the rise.
Your digital security is important to us. Two-factor authentication makes it harder for cybercriminals to breach your privacy.
If you're a business owner, you should evaluate all the third-party services you use with your business and consider whether adding 2FA is right for you. 
What is two-factor authentication?
For those who are unfamiliar with 2FA, it's an added layer of security in addition to your account password. For Simplesat, the second form of protection is a one-time authentication code that's generated by an app on your mobile device, such as Lastpass, 1Password, or Keeper. The code is delivered instantly when you are logging in, immediately after you enter your password. 
Without two-factor authentication, you only have one layer of security – your password, which leaves you vulnerable to cyber-attacks.
Two-factor authentication is not to be confused with multi-factor authentication (MFA), of which 2FA is a subset. MFA means using multiple forms of authentication to gain access. For example, you use a password, then a one-time code, and then answer personal security questions.
Why you should enable two-factor authentication
Unfortunately, hackers are NOT taking any breaks during this pandemic. In fact, cyber attacks are on the rise as employees move to work outside of the office on unsecured devices and networks. 
Adding 2FA makes it much more difficult for hackers to gain access to your Simplesat account, even if they have obtained your password.
Your employees may ask you, "Two-factor authentication seems cumbersome; is it really necessary?". The short answer is, it's really not cumbersome at all: the security code is sent instantly whenever they log in, to whatever device they use. Simply put, 2FA is one of the most efficient and effective ways to stop hackers from acquiring sensitive information.
Enable 2FA for your Simplesat account
To enable 2FA, head to your Simplesat dashboard and click on Security. Follow-up by clicking Enable two-factor authentication.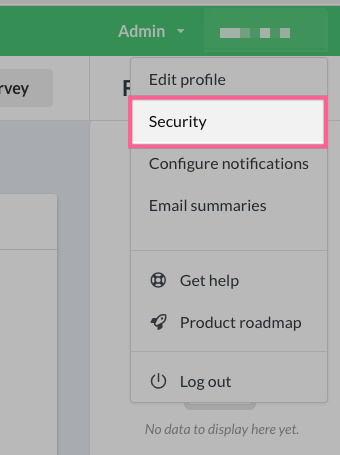 Using your choice of authenticator app, click on the '+' symbol at the bottom-right of the screen, and choose to 'Scan QR Code'.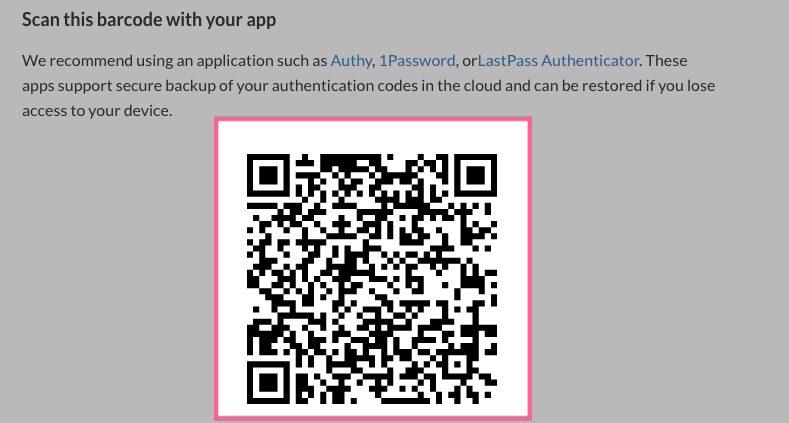 After the initial set up, you can use your authenticator app without a network connection. The app on your phone will return a 6-digit code. Enter that code, then click Enable.
Note: The code expires every 30 seconds and is replaced by a new one.

Keep these recovery codes in a safe place
One of the limitations of 2FA is that your phone can run out of battery or can stop working unexpectedly, preventing you from receiving a single-use 6-digit code. In case this happens, copy the backup recovery codes you see below and save them in a safe place. You can use these if you aren't able to access your phone when signing in.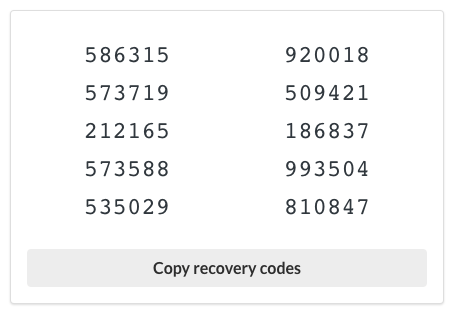 Whenever you sign in you will now be prompted for the second factor code after passing the password prompt. After you enter your password, you'll see this page to enter your authentication code.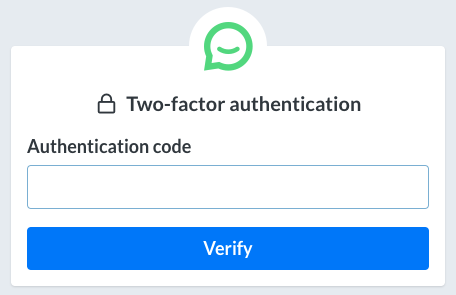 Open your device's authentication app to get the code. After you enter it, you'll be logged in as usual. If you're not able to access your device, you can use one of the recovery codes shown above.
Simplesat is a (secure!) customer feedback system that works, including everything you need for turning CSAT and NPS data into action. Try it yourself with Simplesat free for 30 days.