When it comes to collecting customer feedback, you have two main options: the built in or 'native' functions of your helpdesk platform, or 3rd party software that integrates with that platform.
Let's look at the pros and cons of each solution to determine which is better for your needs.
Native or built-in satisfaction tools
Recommended for: businesses with low customer volumes, limited budgets, and those without a need for granular data on customer outcomes and attitudes.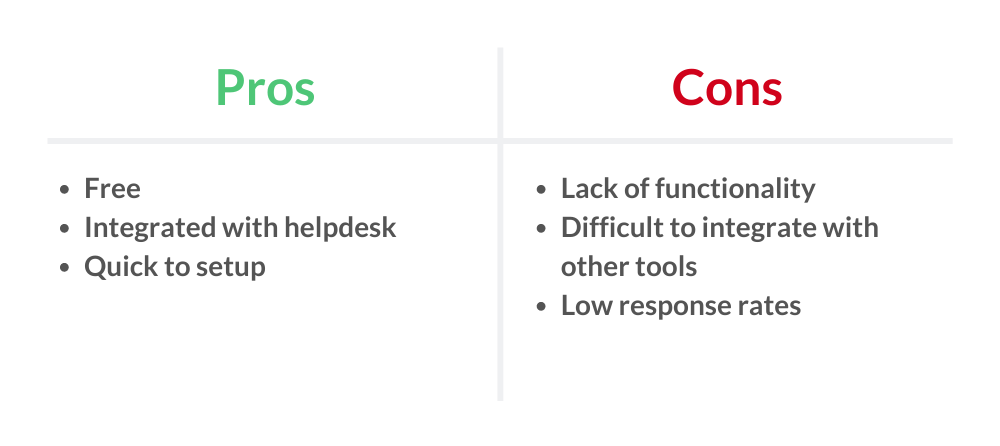 A native customer satisfaction tool is one that is included with your business's help desk software.
Basic satisfaction-tracking functions are built into platforms such as Zendesk, Connectwise, or Autotask. They will often have systems for handling CSAT surveys included with their other customer support or help desk features. They work well for general, low volume environments where granularity and branding are not priorities.
Pros of built-in customer survey tools
Free –

 Generally, native CSAT functions come with the platform you are already paying for. However some, like Zendesk, only include customer surveys in higher-tier plans. 

Integrated with help desk –

 Integrations, such as updating a ticket with the latest rating, are built-in. 

Quick to set up –

 In most cases, enabling the survey tool is as easy as ticking a few boxes. 
Cons of built-in customer survey tools
Limited functionality and customization –

 Typically, the tool is a simple one-click survey without optional questions, rating scales, design, or branding.

Limited integration –

 Native customer survey data is difficult to integrate with systems outside the helpdesk, such as Slack, your CRM, or data analytics tools.

Limited engagement –

 Built-in tools typically return low response rates from customers due to a lack of targeted questions, and visually unappealing and unintuitive interfaces.
Dedicated customer satisfaction tools
Recommended for: businesses that have outgrown their current native solution and are looking to take their support team performance to the next level.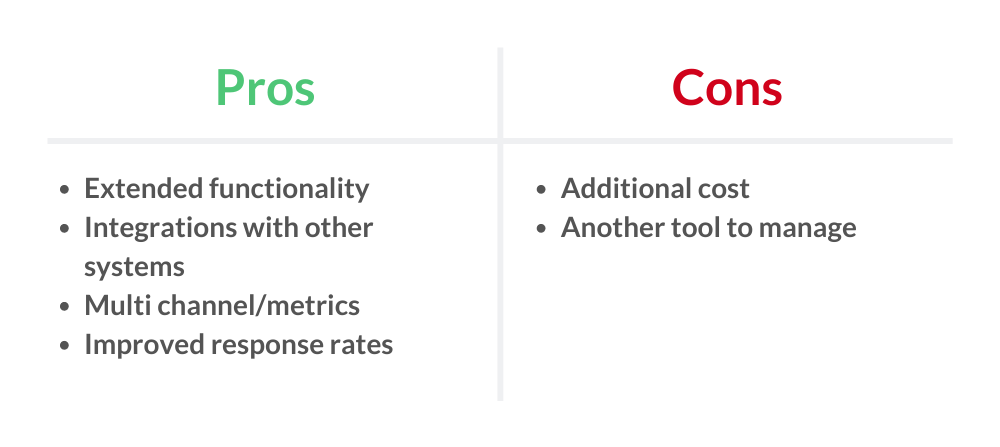 A dedicated customer satisfaction tool focuses on doing one thing very well: measuring customer satisfaction. It provides data you can use to improve the outcomes for your customers, for their benefit and the benefit of your business. This fulsome approach to customer surveys gives you added functionality, customization, and integration opportunities.
Pros of dedicated customer survey tools
Extended functionality –

 With a dedicated CSAT tool, you can create customized interactions with your customers through

unique questions and survey pages

.

Multiple data channels –

 Native survey tools typically offer one metric: a simple survey attached to tickets. Dedicated tools can gather additional data, like Net Promoter Scores, to provide a clearer understanding of customer satisfaction levels.

Unlimited integration –

 Results can easily be posted via email, on Slack channels, or directly back to the tickets for a transparent and seamless experience.

Improved engagement –

 By providing a more appealing interface and targeted questions, dedicated tools are typically better at motivating customers to respond.
Cons of dedicated customer survey tools
Additional cost –

 Almost all 3rd party customer satisfaction tools are going to cost you extra. You get what you pay for, but sometimes added tools won't fit your current budget.

Another tool to manage –

 You will have more user accounts, passwords, and login URLs to remember and manage. (Simplesat reduces this friction by not requiring your team to log in each time.)
You need a single dashboard 
You want a single dashboard to monitor feedback and create reports. Simplesat is laser-focused on collecting, managing, and publishing customer feedback.
Your support team is growing
As your team grows, they are going to need more from their customer satisfaction tools in order to understand and serve your customers. Larger teams look to Simplesat for extensive functionality in customer feedback.
You need better response rates
Built-in tools don't allow for the customizations required to increase response rates. Simplesat offers customizations and visually engaging surveys that will improve your customer engagement and return more, and better, data.
Read our tips on how to improve survey response rates
You need to integrate your CSAT data with other tools
Native solutions are only concerned about integrations within their own platform. Look to Simplesat if you want a seamless way to get your data across platforms and into the tools your team uses most, such as Slack or Microsoft Teams.
Make the switch to Simplesat
Simplesat is a customer feedback system that works, including everything you need for turning CSAT and NPS data into action. Try it yourself with Simplesat free for 30 days.