Managed Service Providers (MSPs) are bombarded daily with warnings about the dire consequences of not monitoring various metrics.
But how do you know which ones you should be focusing on?
Sure, sales and profitability are high on your agenda, but your business depends on meeting client needs, so key performance indicators for customer service should near the top of your list of metrics to monitor.
Here we outline some of the customer service key performance indicators (KPIs) you should be tracking:
Customer Satisfaction Score (CSAT)
Customer satisfaction (CSAT) scores indicate how happy clients are with the services you provide. CSAT is most commonly used to gauge a customer's satisfaction about a particular ticket or project.
With Datto ranking CSAT scores as the second most important KPI overall (after profitability), they are a great resource for discovering what makes your clients happy — and what aspects of your service they may not be as ecstatic about.
A closed-ticket satisfaction survey records customer responses immediately after engaging with your company through a service ticket or project. For the customer, this can be as painless as completing a one-click survey in an email, so response rates are typically high. CSAT is a great metric for these types of surveys because the information is quick and easy to capture and enables you to take immediate action when client relationships may be under threat.
CSAT is calculated as:
Net Promoter Score (NPS)​
Measuring customer loyalty is not easy: Just because your clients pay you on time every month does not mean they won't drop you for an alternative service provider. Yet, with research indicating that loyal customers are the most valuable, it's important to find out just how loyal yours are.
Customer-centric MSPs use Net Promoter Score (NPS) surveys to identify their most faithful clients and discover just what makes them loyal.
Clients answer a simple question such as "On a scale of 1 to 10, how likely are you to recommend our company to your friends or colleagues?" Customers are then categorized as either Promoters, Passives, or Detractors, based on their score.
NPS is best paired with a free flow follow-up question that asks the user if there was something in particular they were delighted about, or what could be done to get closer to a 10. To get even more context about your responses, you could consider including additional RATER questions (see below).
Interestingly, customers tend to prefer quick responses over more thorough ones that take longer — speed is preferable to quality.
Your clients want to know you value their time, so you need to define acceptable response times in your IT service level agreements (SLAs) – and then meet or better those times.
It is helpful to send automated messages along the lines of "we're on it" to reassure clients when they contact your company that you have received their query, but it doesn't count as a reply until one of your agents has personally responded. Here are some actionable tips for how you can improve your response times.
Here's how to calculate this KPI:
Your customer retention rate is an important KPI because it reflects how many of them stayed with you over a specific period. A low rate indicates that your customers are not remaining loyal to your company.
Customer retention rates are in percentages. The ideal rate is 100%, but this is unrealistic given the variety of reasons a customer may drop their MSP (a process known as "churn"). For MSPs, acquiring new clients is a long and expensive process, and it often costs more to acquire a new client than to retain an existing one. Because of this, it makes sense to invest in retention by identifying unhappy customers, via CSAT and NPS surveys, and mending those relationships.
Here's how to calculate your customer retention rate: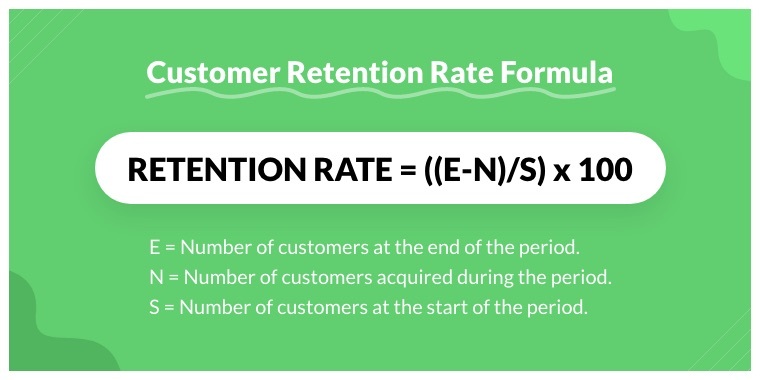 Collecting the data is only one factor when measuring customer service. Making sense of the data requires categorizing it according to the service dimensions customers care about, creating the acronym:
🆁 Reliability – do you deliver as promised?
🅰 Assurance – does your organization inspire confidence?
🆃 Tangibles – does your company present itself professionally?
🅴 Empathy – are your team members understanding and empowered to solve problems?
🆁 Responsiveness – does your team address queries within the expected time frame?
You should use questionnaires designed with this customer service quality rater framework to identify gaps between what your clients expect and what you are delivering. You can then leverage your findings to make improvements and boost retention. Any improvements will be revealed by this and the other KPIs.
Each RATER metric can be calculated either by % of Positive Ratings, or Mean Average (like with a 5-star rating system).
eNPS (Employee Net Promoter Score)
One metric you might not consider when assessing your customer satisfaction KPIs is your employees' satisfaction — but you should. If your employees are not motivated, your customer service will suffer.
So, what is the best way to measure your employee engagement? A conventional approach is to ask your team members direct questions about how meaningful they find their work and how much their supervisors value their opinions. The problem with this approach is that respondents may deliver the answers they think you want to hear.
An alternative is to spend time with employees and analyze their levels of engagement as you observe them. Ultimately, customer service is about people rather than just data, so remembering that your employees are internal customers of your business will boost their engagement. A combination of surveys and time investment is probably the optimum approach to gauging your team members' actual engagement.
Now that we have outlined some of the most important customer satisfaction KPIs, you probably want to try measuring some of these yourself. Not sure where to start? Try a sample survey.