Integration Technologies is an IT support firm based in Honolulu with offices on the US mainland. Now in their 30th year of business, they deliver network design, implementation, and support services to a wide range of industries.
Intech relies on their PSA ConnectWise, but their previous survey tool, Survey Monkey, lacked integration capabilities. This meant they were forced to perform several processes manually, which was both time consuming and a roadblock to gathering the high volume of data necessary for meaningful NPS (Net Promoter Score) tracking. 
These problems included manual customer having to manually export and import contacts into Survey Monkey, and then after receiving results, importing the survey data back into ConnectWise.
With a large number of clients and a service-focused culture, this meant two opportunities were being missed: measuring very real customer sentiment when it was freshest; and getting insight into exactly where their service team needed to improve performance. 
According to Intech's CEO Sam Gridley, these frustrations could be summarized in 3 ways:

There was also the issue of how to leverage their positive feedback to attract new business. With Survey Monkey, publishing favorable feedback comments was also a manual process. And you know what that means: it's stuck in somebody's backlog and never gets done. 🤦‍♀️
Simplesat's ability to integrate seamlessly with ConnectWise created the foundation for an easy transition from Survey Monkey.
The ConnectWise contact sync imports all customers into Simplesat, and makes sure records are always up to date. This allows the Intech team to create a sending audience in Simplesat for their NPS email surveys (for example, type=customer, active=true). 
After migrating from Survey Monkey for the NPS function, Intech also took advantage of Simplesat's closed ticket CSAT surveys feature. Surveys are embedded in ConnectWise closed email ticket notifications, making it easy for their customers to rate at the end of a support interaction. 
After a rating is received, Simplesat sends detail back to ConnectWise in the form of an internal note and custom fields. Intech even has an additional integration setup through Zapier that automatically updates a ConnectWise survey!
Finally, Simplesat installed their widget on Intech's website so that positive comments can be published in real-time for potential customers to see.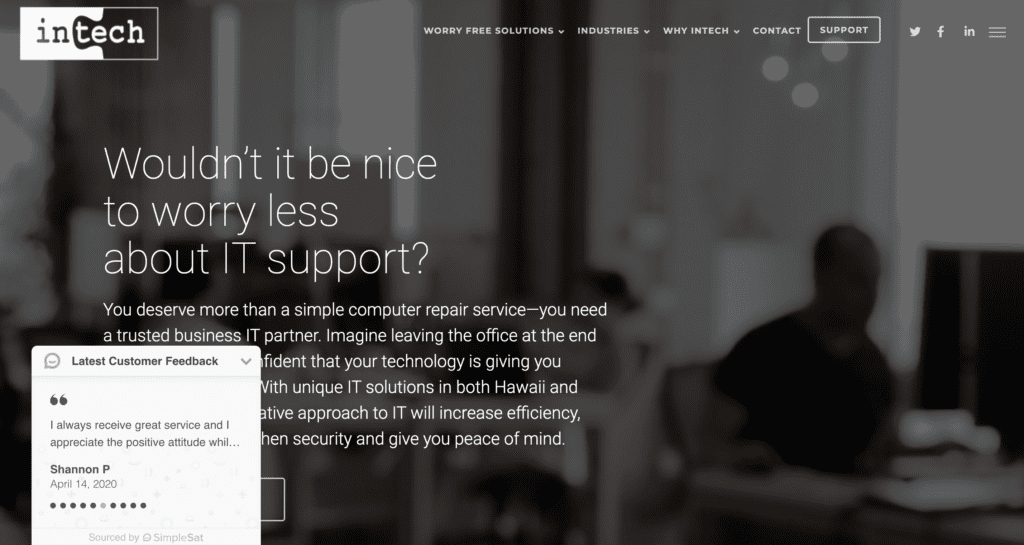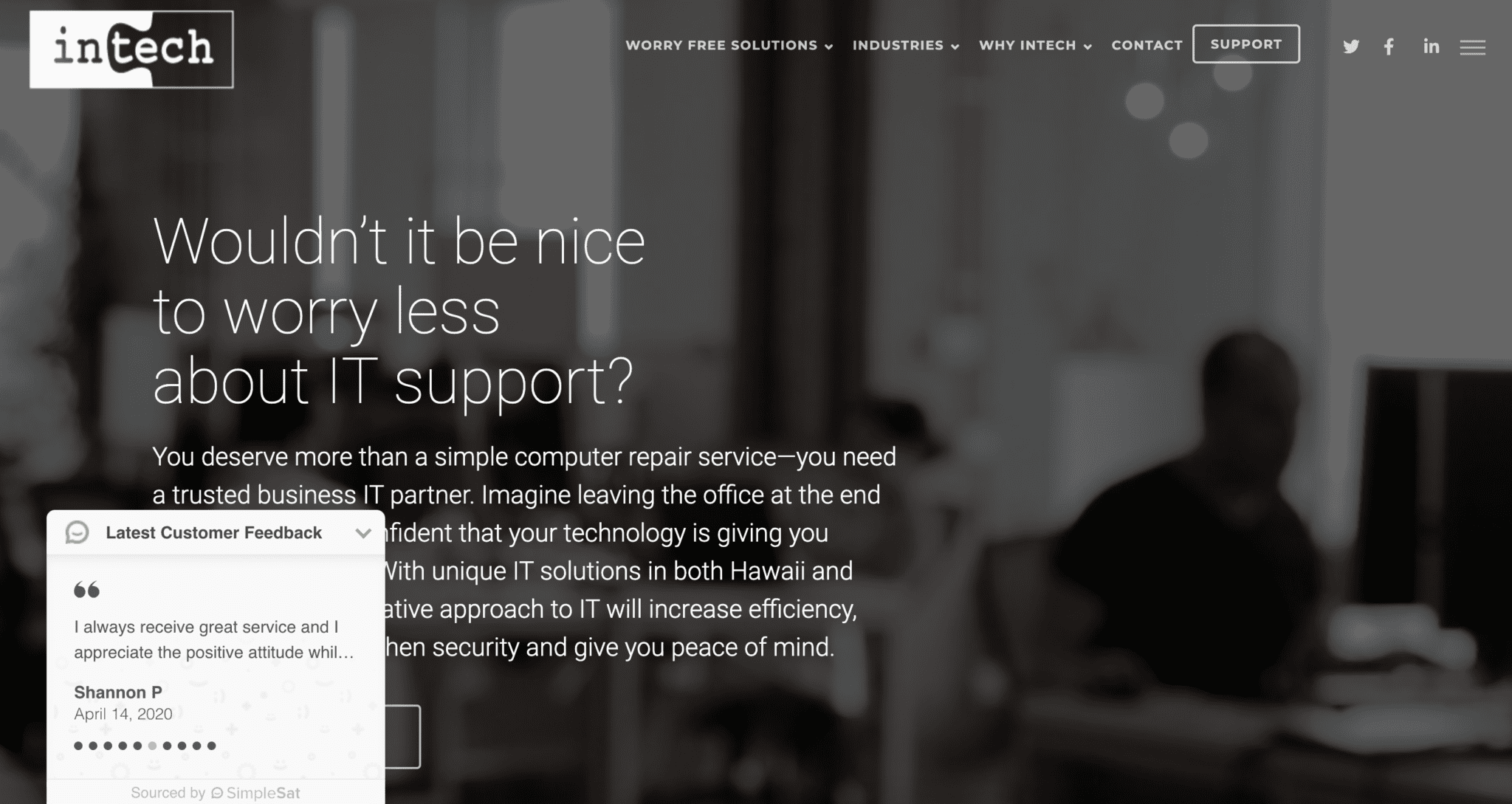 Sam and his team have saved a huge amount of time thanks to Simplesat's automation features. They no longer have to manually manage their surveys, and the flow of data is so constant that they set up a dedicated monitor in the office showing real-time customer feedback for the service team. This is a perfect match for their service-oriented culture and their drive to constantly improve.
In addition, Simplesat's data feed is publishing Intech's positive feedback on their website, helping to attract new business. 
Integration Technologies accomplished three goals by switching to Simplesat – they improved the quality of their service, boosted customer retention, and started converting more customers through their website. The insights they gain into their customer outcomes have been a perfect match for their company culture, and they feel well supported by the Simplesat team.
About Integration Technologies, Inc.
Intech has been providing IT consulting and network support services since 1991. Based in Honolulu, they've been at the leading edge of automation and remote-access technologies across the Hawaiian islands. These competencies leveraged Intech's expansion to the US mainland, with a second base of operations in Nevada.