Customer opinions aren't always easy to fit on a single numerical scale.
Follow-up questions help your customers clarify what they're thinking. They also give you the full picture about what's going great and what you need to change.
Simplesat just made it easier to ask follow-up questions!

With conditional logic, you can gather far more context from survey responses – and you're also letting the respondents know you're listening.
Question actions are now available for all survey questions. Learn about question actions here.
Fine-tune your follow-ups. Use answer sentiment, rating, or customer choice as conditions to ask follow-up questions at just the right time.
Follow-up questions can now be in multiple-choice question format.
You can give your customers the option to immediately end the survey based on conditions – or after any follow-up question. Provide an effortless customer experience while collecting more information!
Follow-up answers have a new nested look when viewing responses on the feedback page of your dashboard.
Check out the changes for yourself 👀
To see question actions in… action, head over to the surveys section and create or edit any survey.
Create conditions based on:
Customer choices (e.g. "What is your main reason for canceling? a. Dissatisfied with the product b. Dissatisfied with the customer service c. Too expensive")
Specific rating
Sentiment/rating grouping (for example, promoter/neutral/detractor)
Whether respondents have left any text in a comment field
At the bottom of every question, you can add and configure actions.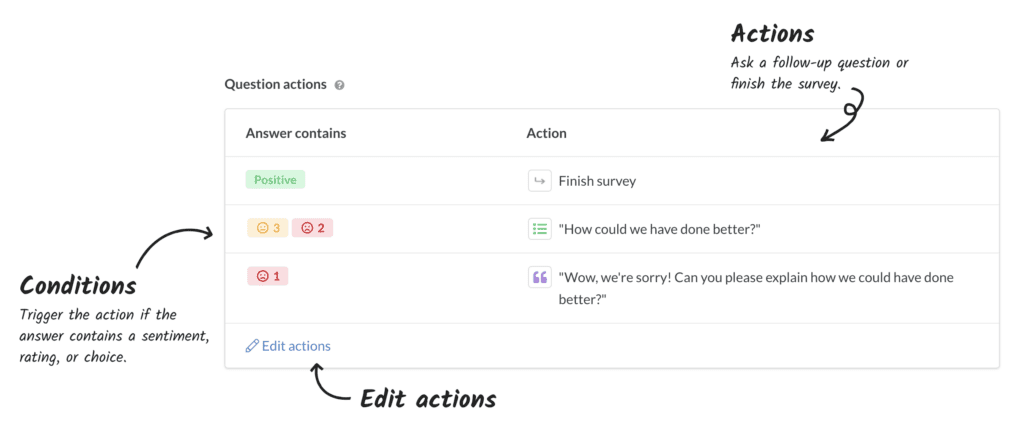 On the web survey, follow-up question cards show the answer to the previous question. This lets your customer see the full context of your follow-up question. Instead of just filling out a survey, they feel engaged in a conversation.

At any point in the survey, the customer can change their mind. They can alter their previous answers and get new followup questions as a result.

As always, you can make some questions mandatory and leave others skippable.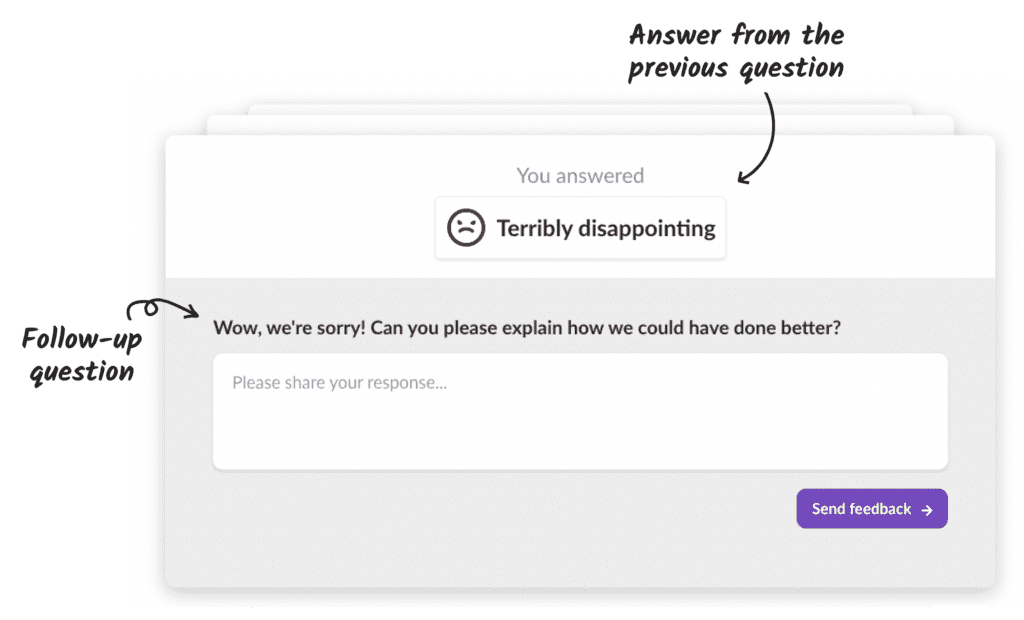 We kept things simple both on the front end and on your dashboard. You can view nested follow-up answers on the feedback page.

This makes it easy for any member of your team to follow the customer's train of thought and understand the full context of their comments.
Let us know how this update is working for you!
We'd love to hear about your experiences with our conditional logic update. Tell us about how you're using question actions, or point out anything you feel is missing.

Feel free to drop us a chat anytime.