We've been working away in our digital workshop, tinkering and tweaking, and now we're thrilled to present some BIG new features!
Here at Simplesat, we believe in asking the right questions, at the right place, at the right time. It's like matchmaking but for business insights! Now, we've got two brand-new delivery methods to help you do just that.
Let's dive right in.
Ever wished you could catch your customers' thoughts right as they're browsing your site? Well, our new web-embed surveys let you do just that!
Seamless integration – Pop a Simplesat survey right on your website or web app.
Improve response rates – Engage your customers right where they're hanging out.
Ultimate customization – Set rules, target specific pages, or even sections like "/confirmation."
Personalizing the survey embed code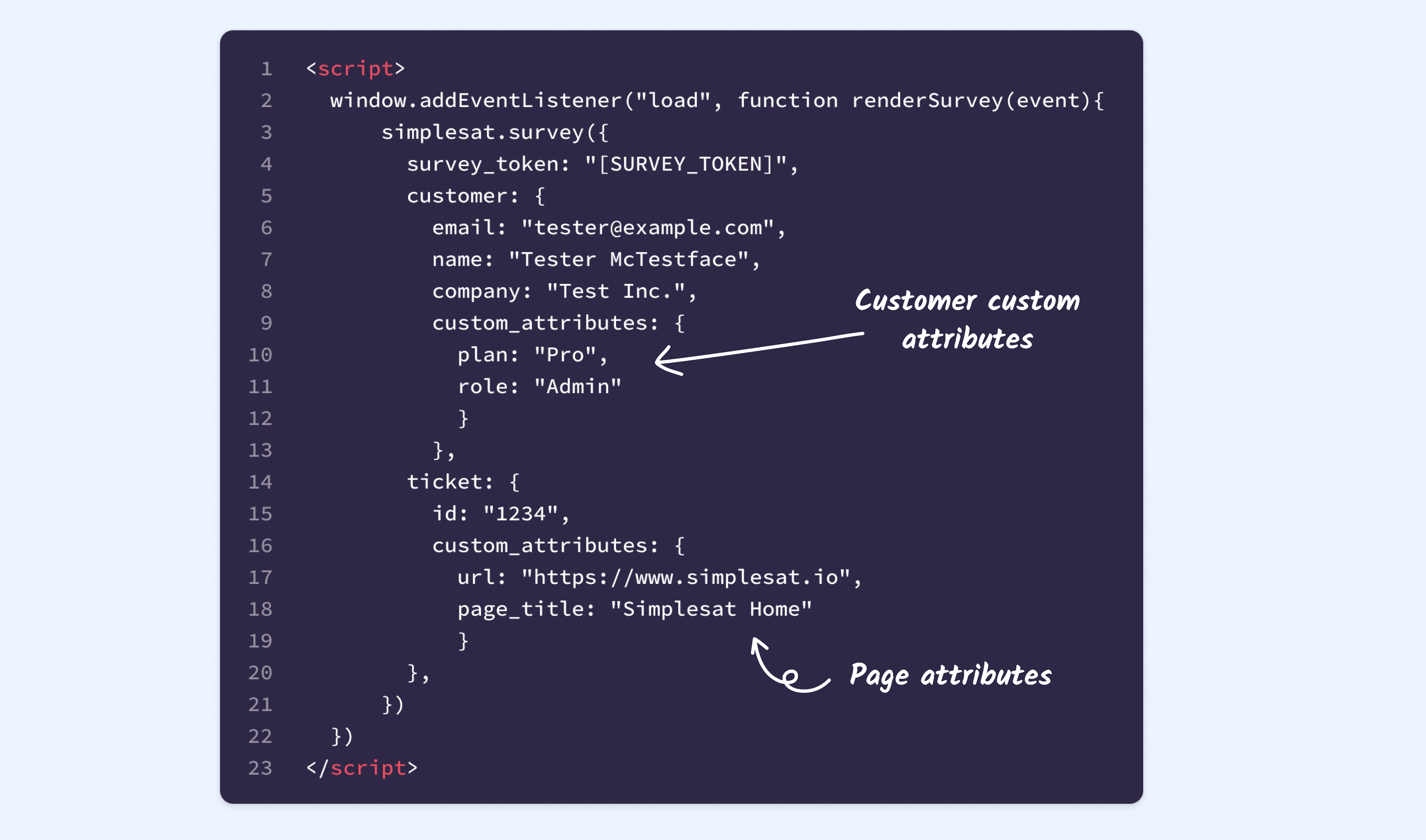 You can include customer or ticket fields right in the embed code. Want to target only "Pro" plan users? Just include the custom attribute, like "Plan: Pro." You can even gather specific page info such as URL or page title through ticket attributes.
Our audience rules are carefully designed to provide flexibility and accuracy. Here's how they operate:
Step 1 – Check any attributes sent in the survey embed code.
Step 2 – Compare with existing attributes for that customer in Simplesat (if the survey embed code includes the customer's email address).
Step 3 – If there's a mismatch, don't fret! Simplesat will update the customer with the latest details sent in the embed code.
Our surveys are not just smart, they're stylish too!
Standard users – Enjoy the freedom to tweak fonts and accent colors to suit your mood.
Pro users – Full access to edit custom CSS lets you match the surveys to your brand. Your surveys, your style!
Why use web-embed surveys?
You're looking for something fresh to improve response rates
You want feedback at crucial steps in the customer journey
You crave a simple way for users to click and spill their thoughts
Need a sneak peek? Click here to see a demo!
And remember, we're still perfecting things, so we're all ears for your feedback.
⚡️ Event-based email surveys
A brand new delivery method in Simplesat's direct email arsenal:
Event-driven – Trigger survey emails from an event, like an API request.
Integrate with ease – Hook it up to your CRM, helpdesk, or directly into your product.
Future plans – We're cooking up deeper integrations, so stay tuned!
Sent from Simplesat – more control, more choices
Event-based emails are dispatched directly from Simplesat. Why is this awesome?
Suppression rules – No more flooding your customers; set rules to keep the email flow just right.
Sending delay – We've got the reins on the timing, allowing precise control over when those emails go out.
Pros and cons – Compare with embedding a Simplesat survey in a closed ticket notification email from another helpdesk. One's not necessarily better, but more options mean more chances to find your perfect match!
All the bells and whistles of direct email features
But wait, there's more!
Customize content – Tailor email content and sender details to your heart's content.
Smart follow-ups – Non-responders? Send them gentle reminders with follow-up emails.
Engagement reporting – Stay in the know with detailed engagement stats right in the survey dashboards.
Pro tip – try it out in Postman: Want a sneak peek at how this all works? Test it out in Postman. Paste your survey's endpoint URL, send a POST request with at least the customer's email in the request body, and voilà!
Why use event-based email surveys?
You need satisfaction feedback at key moments
You want to limit the number of surveys sent to high volume customers
✨ Survey builder enhancements
We hear you, these were long overdue 😅:
Drag-and-drop fun – Reorder question choices as you please.
Simplified UI – Picking multiple choice questions has never been easier.
No more blank spaces – Added validation to keep things neat and tidy.
So there you have it, friends! We can't wait for you to try these features and give us a shout about what you think.
For other requests or to peek into what's next, don't forget to check out our product roadmap.