Just a year ago, Inspired IT was having a hard time gathering meaningful feedback from customers. This resulted in a lot of guesswork to improve their service levels and strengthen long-term relationships with clients.
Today, Inspired IT has their finger on the customer pulse, which had led to greater business transparency and stronger customer relationships.
"We needed Simplesat to take the guesswork out of how our support is performing and where to improve." says Matt Seeds, Director of Inspired IT.
Since launching, Inspired IT struggled to get a sense of how effective their service efforts were in building long term relationships with clients. They knew they had a happy customer base but had no idea how to identify issues before they became emergencies.
The only way they could get this information was by asking the client or emailing them directly with reminders, something that wasn't consistent or scalable for their support team. As a result, they were not getting full representation of every ticket or project closed, their feedback efforts were fully manual, and subsequently nothing was easy to track.
One of the big ah ha moments was when they noticed a trend of discussion around Net Promoter Score (NPS) and Customer Satisfaction (CSAT) surveys for MSPs and the ROI of monitoring these regularly.
They needed a platform like Simplesat to acquire feedback that would help us maintain our service levels at a high standard.
That's where Simplesat came in. With its full integration with Autotask and ease of use, Simplesat provided everything Matt and his support team needed without complicating their existing efforts.
Inspired IT onboarded Simplesat to address their concerns about inconsistent collection of customer satisfaction data. "It was super easy to setup. I implemented it one evening while watching TV and haven't touched it since," said Matt of the integration and setup process. "Now I have peace of mind that we are hitting our service targets as a business and maintaining the high level of service that sets us apart."
For Inspired IT, Simplesat's focus on simplicity and easy of setup made it a perfect fit for their smaller business model. Integration with Autotask allowed them to continue using existing processes while enjoying the benefits of reliable customer feedback on tickets.
Simplesat offered an easy to implement, easy to track solution for customer satisfaction for Inspired IT. They now receive notifications via email and into their Microsoft Teams environment using a Zapier connection. This allows them to easily pass all feedback along to the team and keep everyone in the loop on how the business is performing.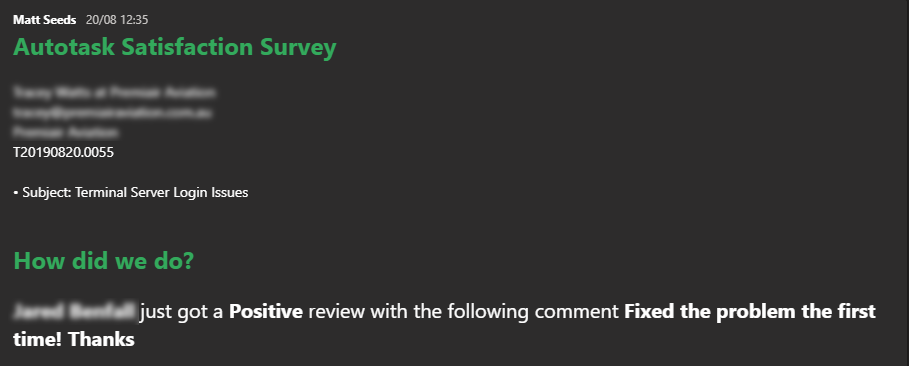 The result was instant feedback on the level of support being provided by Inspired IT's team of support professionals. "If we've done something that's unsatisfactory to the client, I would rather know straight away so we can correct and learn from it, and then build it into our process so that it does not happen again." It ultimately takes the guesswork out of how things are performing, and clients can make suggestions and advise straight away if there are issues that are not being addressed.
As a result, they're fully aware of how effective their efforts are, with a 100% CSAT score and 31.6% response rate.


Established in 2016 in Perth, Inspired IT is committed to providing an unparalleled solution to their customers through prompt service, clear communication, and scalable IT solutions. They offer a suite of services to different business types in the area and have invested carefully in building a reliable team that represents these values in working with their client base. Inspired IT connected with Simplesat to address their need for better, insightful customer satisfaction feedback.
At Datto, our mission is to empower the world's small and medium-sized businesses with the best in enterprise-level technology. We do it by equipping our unique community of Managed Service Provider partners with the right products, tools and knowledge to allow each and every customer to succeed. It's an approach that's made us the world's leading provider of MSP delivered IT solutions. Datto is headquartered in Norwalk, CT, with offices worldwide.