For the longest time, we struggled to understand how our clients really felt about us.
We tried to measure their satisfaction levels via email, but response rates were extremely low.
Next, we hoped we could get better feedback by just picking up the phone and calling clients, but that took a lot of time – ours and theirs – and still wasn't accurate because people usually don't want to share their true opinions so directly.
Therefore we were left flying blind – we didn't really know how we were doing, if our clients were happy, frustrated, satisfied, or not.
The problem came to a head when an angry client called in to complain. They had been unhappy for a while, but we didn't know anything about it. The surprise of finding out that they were not only dissatisfied but that it had been building up for quite some time pushed us to find a better way to connect with our clients. Clearly, the "if it isn't broke, don't fix it" mantra was not working. We decided to start evaluating better ways of measuring our customer satisfaction levels.
We had a general idea about what we wanted: We knew that we needed to get the pulse of our individual users, not just the owners of these companies.
We wanted something that was simple for us to set up, and it had to integrate with our ConnectWise service desk.
After trialing a few different solutions on the market, we found the best tool to meet these needs was Simplesat. It had the ideal combination of price, features, and support.
Even better was how easy it was to set up. We were up and running in under an hour with just a couple of clicks.
Another selling point was Simplesat's product roadmap. It's clear that their team is committed to releasing regular updates with valuable new features, and providing open communication with their developers.
👍 The implementation was quick and easy
Implementing Simplesat was a quick and seamless process. We were able to start collecting and aggregating customer feedback almost immediately.
We added Google and Facebook review options and the ability to save them into ConnectWise so we could run reports on them. Combined with the built-in integration and the honest reviews we started seeing, Simplesat was a perfect fit for our needs.
🤩 Our results speak for themselves
Our client communication truly did a one-eighty with Simplesat: Clients can now effortlessly communicate how they are feeling, without the hassle of sending emails or the pressure of talking on the phone.
We know our client satisfaction ratings and can take action based on those numbers – whether positive or negative.
We shifted from being completely unaware of how our clients felt, to finally understanding what we are doing right and where we need to improve.
These insights have improved our ability to make decisions, stay ahead of potential client frustrations, and build on their successes.
Simplesat is now a core part of how we grow our business.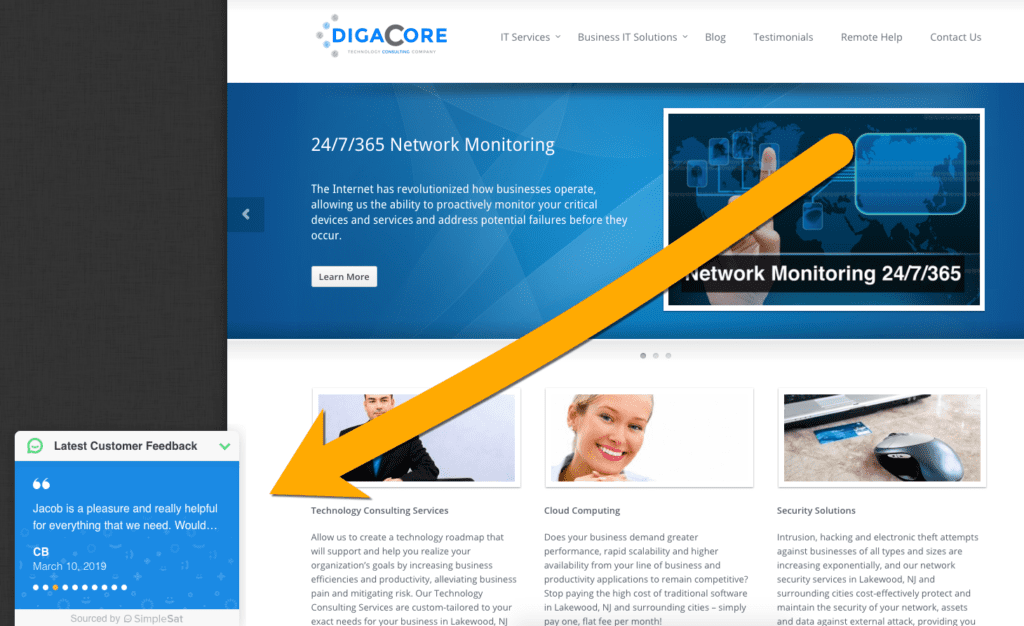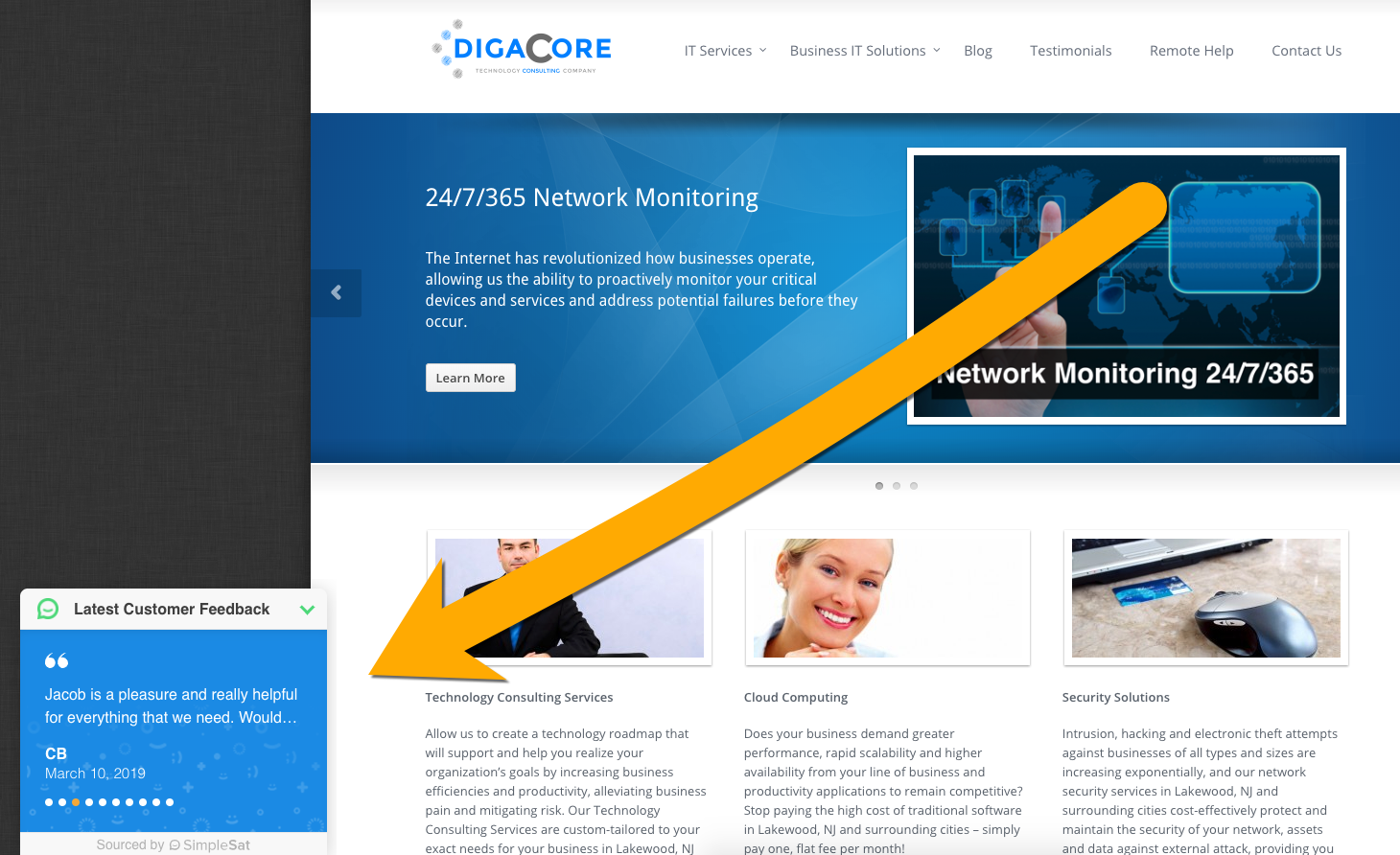 Offering a range of services in Lakewood, NJ
DigaCore Technology Consulting Company
strives to support the IT needs of the organizations they work with throughout the region. From backup and remote data storage to disaster recovery, cloud computing, and managed IT services, they have built a trusted relationship with their customers based on their expertise and attention to detail. They connected with Simplesat to better measure and understand what their customers thought about these services and to continuously improve them