We've got some big news for you. Simplesat's dashboard just got a facelift, and some sweet new reporting features!
We've been working hard to build the ultimate customer feedback management toolbox for SMBs. And with this latest release, we've modernized the design, prepared for future features, and introduced new features to make the dashboards more useful and insightful.
So, without further ado, let's take a look at what's new!
We've updated the overall layout to make your data the star of the show. We've removed most bright colors and branding and moved the green horizontal navigation bar to the left. This makes it easier to access saved filters and longer contextual menus that we'll be releasing in the future.
Our main goal for this section was to declutter and simplify what you see when first logging on to the dashboard. We noticed that many of our users' dashboards contained empty widgets from test surveys. So, we've removed the "At Risk Customers" and "Team Members" leaderboards, and we've reversed the display order so the oldest surveys are at the top.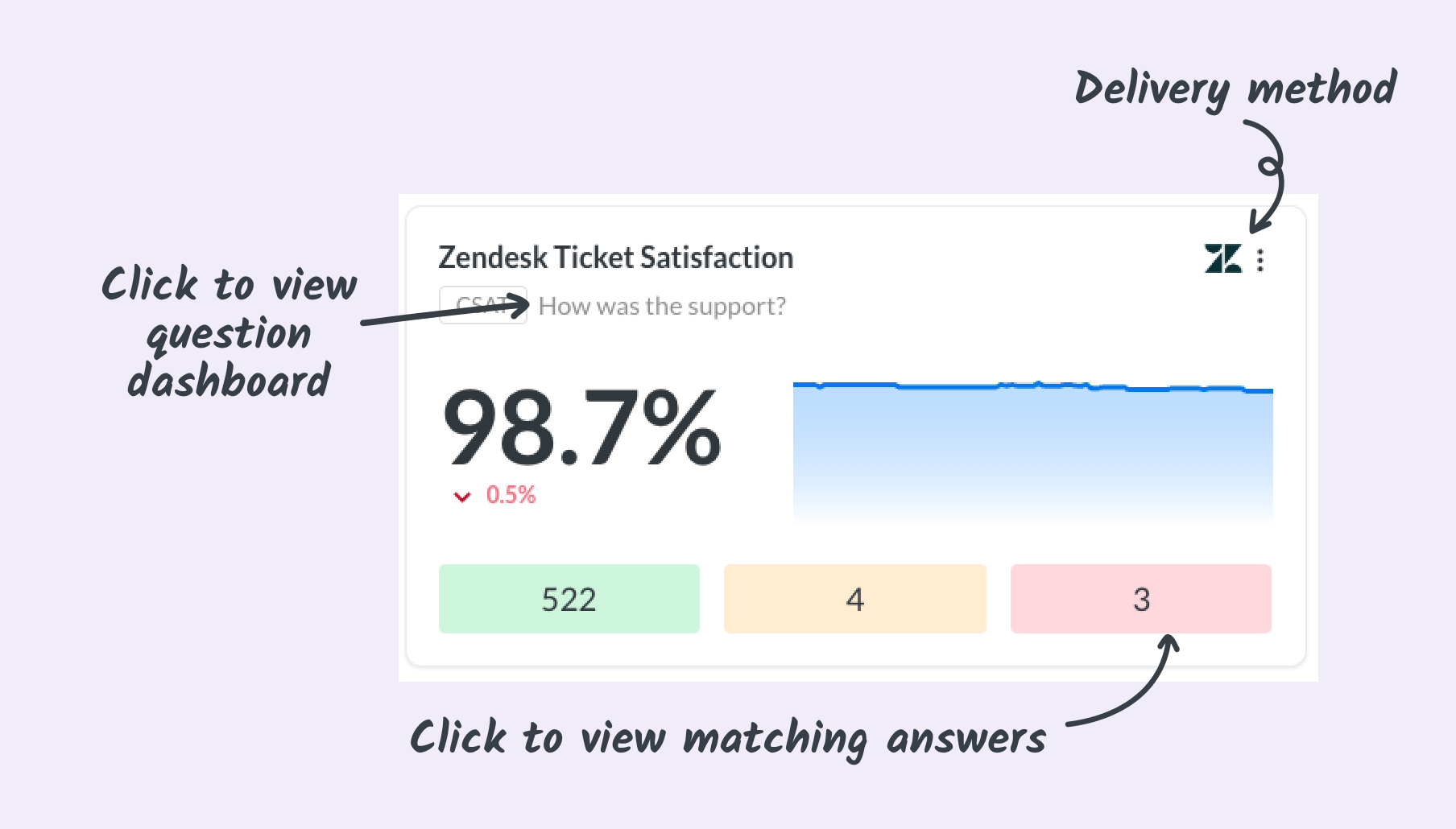 We've also upgraded the existing combo widgets, including an icon that displays the delivery method, a menu bar to edit the survey or change user access, and a comparison metric comparing the score with the previous 90 days.
We've renamed the "Insight dashboards" to "Survey dashboards" to make it more clear for when we have a "Custom dashboards" feature. Survey dashboards are automatically created with every survey, and we've added some exciting new features.
The new features on the Overview page allow you to:
Action important responses in the latest feedback sidebar.
View more engagement stats, including question views, survey completions, skips, and drop-offs.
Easily track changes over time with the new results summary widgets, and view data in percentages, a column chart, and a table.
Better understand which questions your users are skipping or dropping off on to make the necessary changes to improve response rates.
We're thrilled to announce a new Questions page with dedicated dashboards for every question in a survey. You can now click on the question text drop-down at the top of the page to choose which dashboard you want to see. The 90-day moving average, Sentiment distribution, Answer distribution, and Ratings over time charts all show the same information in different formats, making it easier to glean insight as you browse through.
Plus, with the new Latest feedback widget at the bottom of each question dashboard, you can easily view and export responses related to that question.
All other pages may look slightly different due to the layout and design changes, but the functionality is the same.
We've got some exciting plans in store for the Simplesat dashboard, and we want to hear from you. We're always looking to improve our products, and our product roadmap is largely driven by your feedback.
Home dashboard – We still want to make improvements to the Home dashboard and give users more control over what they see. We'd like to introduce display options and drag-and-drop functionality for each widget, as well as the ability to change the date range and add filters, like on other survey dashboards.
Custom dashboards – We don't have a target date for this release yet, but we're paying attention to feedback we receive about "missing" features from the new survey dashboards. Our goal is to build a more robust feature where you can create a dashboard that fits your needs exactly.
We hope you love the new features and modernized design as much as we do. If you have any feedback or suggestions for future features, please let us know! We'd love to hear from you and continue serving your needs.
Stay tuned for more exciting updates from Simplesat. 🚀